The Revolutionary Blacksmith
Book II
A Novel by Jim "Paw-Paw" Wilson
ACKNOWLEDGMENTS
No one really writes a book alone. All of us who write have a tremendous amount of help.
Everyone we know, parents, grandparents, siblings, spouses, children, and friends contribute to our efforts.
If I tried to acknowledge ALL of the folks who have contributed, I'd have to write another book! But courtesy and love require that I mention a few.
Like Jock Dempsey who had the original idea which became The Revolutionary Blacksmith, and so graciously permitted me to use it, and then agreed to supply many of the illustrations. And who ALSO checked every one of the black smithing scenes for accuracy.
And like Walt Sherrill, who is supplying many of the illustrations in Book II.
Like Cindy Scott, Author, who read every word, sometimes five or six times, helping me with style and content.
I need all of them in my life, and am profoundly grateful that they are here.
DEDICATION
This book is dedicated to three special ladies in my life.
Always first is my own special red head. She has put up with me for almost 42 years now, and she continues to make each new day an adventure.
Add to her the two special ladies at Ruby Faire whose help has made these books possible.
Tracy Olszewski and Valarie Bottari, without you, it couldn't have happened!
---
PROLOGUE
Book One of Will's journal told the story of how Will progressed from Apprentice to Journeymen blacksmith. It also revealed the closeness that existed between Will and the Master Smith's family.
In particular, it told of the growing romance between Will and the master's daughter, Dorothea. The romance culminated in their engagement early in the book. Dorothea was more impatient than Will, but Will's good sense and his sense of responsibility kept things on an even keel.
Will's regiment was sent first to Boston, to take part in the siege there. But shortly after their arrival at Boston, they were re-deployed to West Point. Since their home was on the way to West Point, they were able to spend a couple of days at home. Book One ended as his regiment was leaving their home town to go to West Point.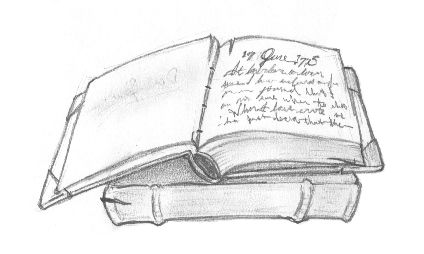 Book Two is a little harder to read. It was obviously written almost entirely in the field. Some of the pages are pretty dirty, and the writing is water spotted. There are also several large gaps in the entries as if Will was just too tired to write on some occasions.
But the story picks up with Will and Robert in the wagon, leaving home for the second time.
PPW