The Revolutionary Blacksmith
Book III
A Novel by Jim "Paw-Paw" Wilson
ACKNOWLEDGMENTS
No one really writes a book alone. All of us who write have a tremendous amount of help.
Everyone we know, parents, grandparents, siblings, spouses, children, and friends contribute to our efforts. Even people with whom we don't get along contribute because including them in a book is an easy way to get revenge!
If I tried to acknowledge ALL of the folks who have contributed, I'd have to write another book! But courtesy and love require that I mention a few.
I must acknowledge Jock Dempsey and Walt Sherrill who do the illustrating for me. Their drawings, so carefully crafted, add much to the words I type. When a description is giving me problems, I can depend on these guys to clarify what I've written.
DEDICATION
This book is dedicated to a girl and a guy.
Always first is my own special red head. She has put up with me for almost 43 years now, and no two days are the same. (How does she DO that??)
Once upon a time a friend of mine had an idea. I stole the idea and expanded on it a bit and these books were born.
So, Jock Dempsey, this one's for you!
---
PROLOGUE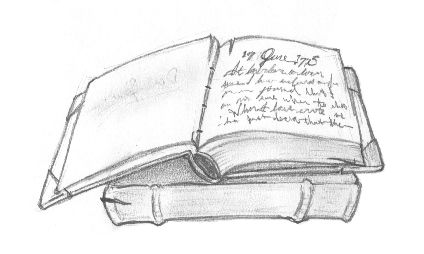 Book Two of Will's journal saw Will and Dee becoming man and wife. It takes them through the first year of their marriage and the birth of their first child.
It also describes the growth of the regiment, and Will's election as company commander of the Artisan's Company.
Book Three of Will's journal finds the regiment going back into the field. Major changes including the fact that the regiment is now full size, nearly twice the size as it was when it went into the field the last time.
And Will begins to learn about "Command Load". Being the boss is not always fun. Responsibility is never a light load.
PPW