Welcome visitor from

United States





Tell them you found it on anvilfire.com!




Blacksmithing and metalworking questions answered.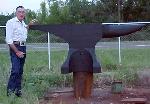 Ray Davis' "Mile Long Anvil"
The previous "World's Larget Anvil". This solid steel fabricated anvil weighs 5280 pounds (the feet in a mile) and thus was dubbed the "mile long" anvil. Details . . .