Mitten gauntlet pattern :
by Alan Bauldree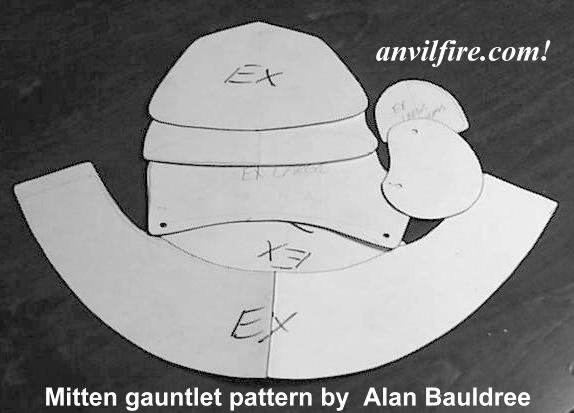 Photo of a set of gauntlet pattern pieces shared by Alan Bauldree at the 2004 Armour-In. These could be used by enlarging and tracing but the hidden piece would need to be fudged. They were laid out to show the order of assembly not to clearly show the pieces.

These are "extra-large". For normal size the width would be reduced about 20% and the length remain the same.

1) Start with good 16ga plate.

2) Layout your pattern on the plate.

3) Cut with a Beverly shear.

4) Dress edges of pieces with grinder and file.

5) Rough form on wood stump with ball end dishing hammers.

6) Planish on ball stakes.

7) Trim, drill and assemble.

Alan hammers these out cold in a wooden stump then planishes on ball stakes (see news link) His planishing needs no grinding or filing and can go directly to the buffer but is often so smooth that for practical use it could be used as-is. Time to make a plain set start to finish, about a day. Finger gauntlets take longer.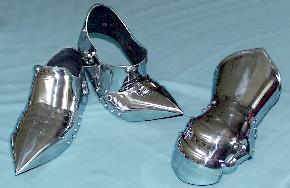 ---
References and Links
---
Copyright © 2006 Jock Dempsey, www.anvilfire.com