Sharon Epps
Broom Maker
And Blacksmith
Sharon makes fancy hand tied brooms on unusual and exotic wood handles. She also makes them on forged iron handles for Bill Epps' fire tool sets.

Wedding brooms symbolize the joining of two into one and are a popular wedding gift.

Bill and Sharon sell their work a Renasaince Faires and dress in costume while demonstrating.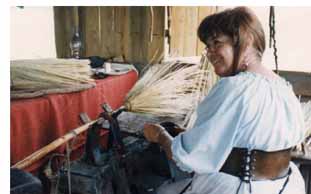 ---
HTML
Copyright © 2001 - 2005
Jock Dempsey, anvilfire.com