VICTOR VERA, MAN OF METAL
By Frank Turley
My big move to Santa Fe took place in 1967. I was establishing myself as a horseshoer, and got a part-time job at the Museum of New Mexico as conservator of wood and metal. I was a fledgling blacksmith, having taken a few jobs, mainly fireplace screens and tools, and branding irons. I had heard that there was a smithy associated with a southwestern furniture company, and being curious, went to look for it. On Madera Street, there was a large adobe building which housed the company's wood shop and associated smithy.
I introduced myself to the foreman of the wood shop, and he in turn, introduced me to the blacksmith, Victor Vera. At the time, Victor looked to be in his 70's. He was about 5' 8" in height, and of a blocky stature. He was working four hours a day, making furniture hinges and latches, fireplace accessories, and an occasional window grille.
The smithy was an eye-opener for me. The shop was "perfect". My untrained eye took in such "foreign things" as cone-mandrel, swage block, and cracker box welder. I knew then, that I was to have a shop someday. After a couple of visits, I asked Victor if I could come in and help him occasionally, no money to change hands. He acquiesced, and so began an amicable relationship which lasted about 10 months.
In visiting with the woodworkers, they accepted Victor, referring to him as a "primo" (cousin), because he was from Old Mexico originally, San Luis Potosi, over 700 miles below the border. Initially, they warned me that he would not share very much metalworking information with me, that he was somewhat close-mouthed. They also warned me that he would give me some bull about being Pancho Villa's gunsmith.
As it turns out, Victor was quite open with me. He introduced me to arc and oxy welding. He showed me the scroll forms and various jigs he used. He had shortcuts, often buying furniture hinges and cutting off the leaves to preserve the barrels. He would then oxy-acetylene weld his New Mex-Mex stylized leaves on, and disc sand the weld clean. But he got in the coal fire, as well. I helped him with a large, forged and scroll worked grille at one point. When he put in a four hour day, he really worked for four hours. He had put wooden planks on the concrete floor to save his legs. In the wood shop, in mid-morning, a loud bell would sound off, and the men would take a 15 minute break. Not Victor. He averred that he had never heard of such a thing as a break, and that he thought it was silly. He worked right on through, never even stopping to look up.
One day, after about three months of our acquaintance, Victor told me about Francisco "Pancho" Villa. Following the Mexican presidential elections of 1910, Revolution broke out. The country was in extreme disorder for several years. There were a number of roving bands of guerrillas, one of them led by the rebel chieftain, Villa. Formerly allied with Venustiano Carranza's army, Villa eventually broke with him. Great portions of Mexico were in an anarchistic state.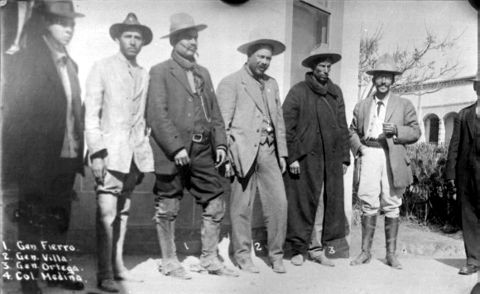 Francisco "Pancho" Villa with his generals, Fierro, Ortega and Col. Medina.
The Robert Runyon Photograph Collection, [image number, 00198], courtesy of The Center for American History, The University of Texas at Austin.
Victor and a friend, whom I assume were in their teens at the time, were wanting to flee Mexico. They were on foot, and had quite a ways to go to reach the United States. Victor said that they saw people hanging from trees during the entire trek northward. It was a frightful time. He said that a band of guerrillas would ride up on you, horseback, and ask which band you wished to see in office. If you said the wrong thing, they would shoot you or hang you. Victor and his friend endured this latter questioning experience when Villa and his riders approached them. With pistols drawn, Villa asked them who they were pulling for. Victor said, "Villa", and as luck would have it, the boys were saved. Now, when Victor was telling me this story many years later, tears began to roll down his cheeks. For this reason, I don't think he was feeding me a cock-and-bull story. Those experiences must have been eidetic.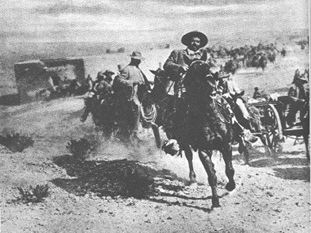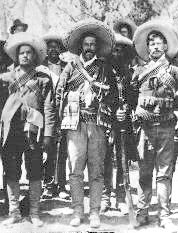 Pancho Villa riding up on horseback and with friends. Perhaps this is what Victor faced. Source not given, Anonymous web page.
Pancho Villa asked the boys what background they had in the workaday world. Villa seemed very pleased to find out that Victor had been brought up as a blacksmith in his father's shop. He asked Victor if he could repair guns, and Victor said that he could. Then, he asked if Victor could break open a caja fuerte (strong box or safe), and the answer was again, in the affirmative. Realize, please, that this response to questioning was done under duress. Victor was made part of the Villa gang, whether he liked it or not. I was not told what happened to his friend.
Victor Vera said that the Villa gang would ride into a small village and completely take it over for supplies, food, and money. Victor was constrained to open the strong boxes that they found as best he could, using cold chisels, hammers, and other tools. If a firearm would fail, Victor would repair it.
Victor Vera said that the Villa gang would ride into a small village and completely take it over for supplies, food, and money. Victor was constrained to open the strong boxes that they found as best he could, using cold chisels, hammers, and other tools. If a firearm would fail, Victor would repair it.

Left, Mexican Army Blacksmiths courtesy Gill Fahrenwald, Click for detail.
All this time, of course, Victor was trying to figure a way to escape, as would any P.O.W. After several months with the guerrillas, Victor managed to get away, and he headed northward again. He met up with another buddy, and they headed toward Texas. After eventually making their way across the border, they found work in Brownsville, Texas, as boilermakers. Victor said that all the boilers were riveted in those days, and that was the hardest physical work that he had ever done. He thought there must be a better way. He and two friends had heard by the grapevine that there was good pay for workers at the steel mills in Gary, Indiana. It wasn't too long before they were on their way to Gary by riding the rails. They all got work at a mill in the division where steel was melted and teemed to be made into ingots. Victor said it was dangerous work. With a twinkle in his eye, he claimed that occasionally, a worker would accidentally fall into the melt. The foreman would holler, "Just a little more carbon!". Victor stayed in the Chicago area for a quite a while, and later learned machine work and plumbing. When World War II came along, he wanted to work for the "war effort", so applied at a munitions factory. He was brought into a room with a number of other men for a so-called interview. The big boss addressed them all and asked if any of them knew about metalwork. Just one did, and guess who? Victor raised his hand, and was told that he was the foreman of the torpedo making division. He was given a sheaf of blueprints and told to go at it. Make torpedos. This he did for the duration of the war.
Victor had a rather odd, Eastern European accent when he spoke English. When I finally asked him about this, he replied,
"Well, of course I do! I learned to speak English from my fellow workers at the steel mill, and they were all from Poland, Hungary, Croatia, and places like that!".
I'm not sure when Victor Vera moved to Santa Fe, New Mexico, but I think he and his wife came to be near their son. I had spent about 10 months with Victor, when his wife took ill. She was originally from San Antonio, Texas, and desired to return home. So Victor took his wife to her home place, and there, I suppose he stayed. We did not stay in touch.
As an aside, I might mention that Victor was also a silversmith. He said that while still in San Luis Potosi, he made silver ornaments for the "charros", gentlemen of wealth on horseback who practiced riding and roping for enjoyment. He made his own "charro trousers", each leg decorated with a vertical line of wolf head buttons of silver. Victor was also a violinist, a regular "renaissance man".
Marc Simmons and I co-authored a book, Southwestern Colonial Ironwork, which was published in 1980 and is now in reprint by Sunstone Press (2007). We dedicated the book thusly:
FOR VICTOR VERA
Master Blacksmith, Silversmith, Musician, Machinist, Plumber, Boilermaker, Welder, and Gunsmith for Pancho Villa.
---
Frank Turley



"En la casa de herrero, cuchara de palo"

.
"In the house of the blacksmith (hangs) a wooden spoon".
(The shoemaker's children go without shoes.)