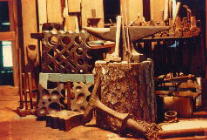 WELCOME to the anvilfire!
Virtual Hammer-In!
This page is open to ALL for the purpose of advancing blacksmithing.

July 2005 Archive
---
WHY THREE FORUMS? Well, this is YOUR blacksmithing forum to use for whatever you wish within the rules stated above. It is different than the Slack-Tub Pub because the messages are permanently posted and archived.
This page is NOT a chat - it is a "message board"

Our chat, the (Slack-Tub Pub), is immediate but the record of it is temporary. DO NOT post permanent messages there. We refresh the "log" every 24 hours now and your message will be lost.

The Guru's Den is where I and several others try to answer ALL your blacksmithing and metalworking questions to us.


Please note that this forum uses an e-mail encryption system that prevents spam harvesters from collecting your e-mail address.


J. Dempsey <webmaster> Rev. 7/98, 3/99, 5/2k, 6/2k, Friday, 04/06/01 16:43:25 GMT
---
---
Ralph update: Ralph has made it through the most dangerous hours. They'll probably do another Cat Scan on his chest later today. Thank you for your prayers. Dawn
- Ntech - Thursday, 06/30/05 12:57:37 EDT
---
OOPS that was from Seattle WA IIRC.

Thomas
Thomas P - Thursday, 06/30/05 13:17:24 EDT
---
AC: Thanks Rich, Mike Dave (and anyone I missed) for your comments.

Mike I did think of a similar idea using a coil of copper pipe with water to carry the cold output of an AC unit in another room into the room that needs chilling. Then I realized it would be easier just to capture the cold air into a flexibe 4" dryer duct and pipe it into the room. This is plan B and its what I will do until I can install something in the room itself

1 ton = 12000BTU (yes?) this means that an auto AC is waaay more than I need. Prolly around 1000BTU would be seriously overrated.

Yes my preference would be to just set a small window unit through the wall. Only need to head off one stud and its only a one story house so, like Dave says, its an afternoon's work. It would be neat, tidy, cheap and easy. But my better half cant be persuaded to let me use my Sawzall on the frame of our house so thats out.

I have access to a mountain of discarded fridges and AC units at the landfill so I am thinking of cobbling something together out of scrap appliances. At least it would be a cheap way to learn something. I reckon that if I can reassemble an AC unit to 30% of its original efficiency, it will be more than sufficient. Adding another fan to cool the coils would b e no problem

Ducted AC units - this was my first thought too but they are spendy - about $500 - and very bulky.

So I think I will mess around based on the tips I got here. At the very least I will learn something about refrigeration units. That cant be bad.

Ive been here a few years now. I still am astounded by the range and depth of knowledge in this community
- adam - Thursday, 06/30/05 15:13:35 EDT
---
Ralph: Rough ride! Hang in there my friend!
adam - Thursday, 06/30/05 15:14:08 EDT
---
Peroxide: 3% is good for sterilizing wounds. 30% is for stanching blood flow in an emergency.
adam - Thursday, 06/30/05 15:19:20 EDT
---
AC: Peltier TEC!!

check out ebay item #7525092915

Some a 12v DC supply, heat sinks, couple of fans and I am in bidniss!

adam - Thursday, 06/30/05 19:26:47 EDT
---
Gavainh,
The idiots in my true story were one of the bigger welding and hospital gas suppliers in the area. When we moved our plant across the river to Indiana, they called and asked to quote on our LOX, LN2 and LAr tanks for welding gasses. I refused them access to the property to quote!
ptree - Thursday, 06/30/05 21:11:49 EDT
---
Ralph: Hang in there friend. You still have things to do.
- Larry - Thursday, 06/30/05 21:17:08 EDT
---
Stanching blood flow: Adam and others:

If you want the very best, safest product available for stopping bleeding, even in massive trauma cases, check out QuikClot™. This stuff really works.
www.bestglide.com/firstresponder.pdf
vicopper - Thursday, 06/30/05 21:38:10 EDT
---
adam: Peltier systems sound better than they work in the field. They will drop temperature 40 degrees per stage, but require more energy per BTU than expansion refrigeration. You CAN build Your own split system from scrounged parts, If You go that route put the entire unit minus the condenser coil and fan inside the room, and use the condenser and a scrounged motor outside. The tiny little section of tube [capilary tube] that feeds the evaporator coil is engineered to the specific aplication, DONT CHANGE IT'S LENGTH. Add a filter/dryer and a sight glass with a moisture indicator in the high side between the compressor and cap tube, and add a schrader valve port on the high and low side to atach the gauge set too. Put a condensate drain in the bottom of the housing and pipe it outside. Silver bearing soft solder will work if You don't want to use 15% silver. Put the drier in with flare fittings so You can change it if You need to.
Dave Boyer - Thursday, 06/30/05 22:11:54 EDT
---
adam: Corection- Should read : Add a filter /drier and a sight glass with a moisture indicator in the high side between the CONDENSER and cap tube,
Dave Boyer - Thursday, 06/30/05 22:45:43 EDT
---
LOX, LAR, LN: ptree - just a question, when you say supplier, do you mean distributor? I worked for Airco, now BOC, and at the time I don't believe we would have done anything like what you described. Some of our independent distributors, (used the Airco name, but were independently owned) I'm a lot less certain of. I normally didn't work with distributors - if an account wasn't using about a million cubic feet a month, I wasn't usually involved.

That said, there are chuckleheads in every industry - still remember the sory of a college classmate who went into the nuclear industry as an engineer. As part of the training he got sent out to do some field work in a hot zone in a reactor. Got suited up, got his instructions, got inserted, started arguing with maintenace & burned up his entire years rad dose arguing - got nothing done.

He had a very good grade average from a top grade engineering school, but had no common sense. None of the rest of us peons wanted to work with him in school on projects - too scared of what might happen if while we were doing something he suddenly "engaged his brain" and took off on some uncharted/unplanned tangent.
- gavainh - Friday, 07/01/05 00:01:49 EDT
---
Longship & Updates: The back is back (what a pain) so I haven't been keeping up with the wonders of Anvilfire, but I hope to catch up this long weekend.

Meanwhile, for those who are interested, the new longship will soon be on its way!

Transportation for the Sae Hrafn [Sea Hrafn] has been arranged, and we expect delivery on the 14th or 15th of July (depending on traffic, weather, and brush fires), with a Survey Party shortly thereafter to celebrate delivery and make further plans. The Sae Hrafn will be kept at Calvert Marina in Solomons Island, Maryland, on the lower Patuxent. This location provides an excellent harbor, good support facilities, and puts us in easy striking distance of the Chesapeake Bay and its many tributaries. She will need additional work at this end of the country, but we plan to have her operational and in the water as soon as we have her bottom painted in anti-fouling paint and get the topsides and inboard painted and coated. Further details and updates may be found at or web page at www.longshipco.org .

Now that he's finished with the Sae Hrafn our shipwright, Kerry Eikenskold, is now available for other projects. Further information may be found at: http://ravenkraft.com/ . He does beautiful work, and takes his time to provide a quality job at a fair price. It has long been the Longship Company's policy to have other, more skilful folks, build our hulls, while we fit them out. (Operations and maintenance is quite labor and money intensive all by themselves, thank you.) After all, King Harald Hardratha didn't build his own ships, and neither do we. We leave the critical hull in the hands of those with the talent and skill to do the best job, because our lives depend upon it.

SO if you have a yen to go viking, we hope to see some of you soon, once we get her here. Once I get back to the forge, it's time to forge more spearheads, shield bosses, and boarding axes! (Hurrah!) (...and couple of boat hooks and a nice diamond-fluked, wooden stocked anchor wouldn't be a bad thing either. ;-)


Busy and medicated on the banks ofthe Potomac; looks like rain is coming this afternoon.

Longship Company Site and Links
Bruce Blackistone (Atli) - Friday, 07/01/05 10:38:25 EDT
---
So Atli, what does a viking ship look like when you're sighting down the barrel of a carronade?

Gonna fire the falconette this weekend!

Thomas
Thomas P - Friday, 07/01/05 11:48:38 EDT
---
Correction: Authour: The authour of "THE ART OF SEEING: AN ADVENTURE IN RE-EDUCATION" is Aldous Huxley. Not George Orwell as I posted earlier (06/17/05)

Huxley is better known for his other works including "BRAVE NEW WORLD"

A pleasent Canada Day out on Vancouver Island. At present, broken overcast at about 20 Cel.

Don

- Don Shears - Friday, 07/01/05 13:39:11 EDT
---
Quickclot: Sarge,
How long has that stuff been available in the U.S? We often have to wait years for stuff you guys have to pass OUR medical boards etc. My older brother trains and tests Paramedics for WYMAS over here, (amongst a lot of other letters he has is F.B.A. or Field Based Assessor) and if it really does what it says then I'm sure he would love some. He's had to review and recommend action for 2 crews after people died through arterial bleed outs (they were suicides attempts who cut their wrists 'properly', up not across). That stuff might have saved their lives and the anguish of the people who couldn't.
Tinker - Friday, 07/01/05 16:33:38 EDT
---
Gavaihn, distributor. You should have seen the trash trucks they haul LOX ETC in.
ptree - Friday, 07/01/05 16:47:06 EDT
---
Tinker: I don't know how long it has been available, exactly. Over a year for civilian use, I know for sure. Probably longer for the military. If you do a Google search, you'll probably find out all sorts of background on it. I DO know it works at least as well as advertised. Better, in fact.

I'm trying to get all our police vehicles equipped with it in the first aid kits. There simply isn't any down side to it, other than the relatively high cost, but just how much is a life worth? If it's mine, I'll cheerfully pay the bucks for that stuff. Other folks have to negotiate their own deals, of course. (grin)
vicopper - Friday, 07/01/05 17:20:19 EDT
---
Art smiting: This morning's Santa Fe New Mexican carries the following items of interest to all youse fans of art blacksmithing: "In the blacksmithing biz, women are outnumbered, said Kathleen Holmes, organizer of Women Do Iron, a national invitational show opening next week at two Aztec, N.M., galleries. Holmes spent 15 years working as a pipe welder, a boom-and-bust profession in rural New Mexico. In between pipe-welding jobs, she built her blacksmithing shop, developed her iron-forging skills, and met other female smiths.
Holmes has been a full-time smith for five years, and she has spent much of the past year organizing Women Do Iron, a show featuring work by metalsmiths and artists from all over the United States. The Feat of Clay Artist Co-op hosts local metalworkers including Pip Howard, Sandy Martin, and Susie Neely. The A. Teasyatwho Gallery hosts work by 14 blacksmiths including Holmes; Leah Gerrand of Seattle; Alison Finn of Marble, Colo.; Lorelei Sims of Charleston, Ill.; and Paula Castillo of Cordova, N.M.
Women Do Iron opens 6-8 p.m. July 8 and runs through Sept. 3. The A. Teasyatwho Gallery is at 119 S. Main St., 505-334-0426. The Feat of Clay Artist Co-op is at 108 S. Main St. Call 505-334-3663 or 505-334-3014."
ALSO: "From 6 to 8 p.m. Thursday, July 7, sculptor and blacksmith Tom Joyce demonstrates iron forging in his Arroyo Hondo studio. Those attending will see a preview of Joyce's recent work, which will be exhibited at Evo Gallery in August.
Joyce, who received a 2003 John D. and Catherine T. MacArthur Foundation Fellowship, has work in more than 30 public collections, including the Musée des Arts Décoratifs in Paris, the Museum of Art and Design in New York City, and the Smithsonian Institution.
Tickets are $75 general or $50 for Santa Fe Art Institute members. All proceeds benefit the institute's First Thursdays, a monthly series of salon gatherings. For information and reservations call 424-5050."
Miles Undercut - Friday, 07/01/05 18:21:42 EDT
---
Tool Alert-- Spoke yesterday with Bob Swenson, who says he has re-named the late Bill Gichner's Ocean View, Del. shop (Iron Age Antques) to be The Front Porch. Same phone number. Bob says he still has goodly quantity of Bill's vast trove of smithing tools.
Miles Undercut - Friday, 07/01/05 18:24:45 EDT
---
Let's all have a safe & sane Fourth out there, and remember now, weave the red, white and blue crepe paper bunting into your bike spokes BEFORE you put the playing card on the fender stay with the clothes pin for the motorcycle sound effects in the parade.
Miles Undercut - Friday, 07/01/05 23:33:29 EDT
---
Drill press:
Every once in a while you find something cool on eBay. Check out item # 6190536820. It's a Champion post drill, in it's original crate, with original labels and still packed in cosmoline! Not something you see every day.
eander4 - Saturday, 07/02/05 01:37:18 EDT
---
117 lb machinst's vise on Ebay: Ebay 6189877824, a Prentiss 117 lb vise, near Allentown, PA. Ends July 4. I can't afford to get ANYTHING for some time, but someone else might like this.
- Tim S. - Saturday, 07/02/05 09:32:22 EDT
---
Was just in a junk shop, and there was an anvil for sale, about 125# eagle, top not chipped or worn. Some idiot had welded two horse shoes onto the top with a flat bar between for a bootscrapper. Then was so proud that he signed the thing in 1" letters by weld bead on the table. Makes you want to cry.
ptree - Saturday, 07/02/05 13:27:16 EDT
---
125# Eagle: Thats horrible. Made me completely forget what I was going to post about.
- Nolan Chase - Saturday, 07/02/05 13:46:17 EDT
---
Ah yes. I remember now.,: Something I thought strange, the only difference between black steel pipe and galvanized steel, is galvanized is dipped in zinc. Yet black costs more. hmm... I spent around $11 on a 1 1/2" black flange piece, a 1 1/2" 2" long black nipple peice, and a 1 1/2" galvanized "T" piece. The Black "T" piece was about $7, and the galvanized was $4. I would have used galvanized for the whole thing, but its for my forge ventilation system, and I dont think I like inhaling zinc smoke. I dont think PPW did, anyways. so I use black for the parts that will be getting real hot.
- Nolan Chase - Saturday, 07/02/05 13:54:43 EDT
---
Ralph update: Ralph is doing very well now. He was moved from Intensive Care to Progressive Care yesterday afternoon. The disappointing news is that the clot buster drug didn't get all of it, there is still significant clotting in the arteries that lead to the lungs. But it is not restricting breathing now, and the pulmonary specialist assured me this morning that it is unlikely clots will cause a problem later on, now that he is on blood thinners. They expect for them to dissolve slowly over time.

For the most part he's feeling pretty good. In fact, he's starting to get BORED!, which is a great sign! :) He's in good spirits and was able to sit in a chair today and will slowly start walking around his room and such. The doctor said today that he will likely get to go home Monday or Tuesday!!

He was already on medical leave when this attack happened and won't have to go back to work till January, which is a blessing.Thank you again for all your support!!! Many blessings and warm regards,
Dawn
- Ntech - Sunday, 07/03/05 00:05:10 EDT
---
RALPH: Fantastic news about Ralph!!!!!!!! For that we give thanks and praise!!
3dogs - Sunday, 07/03/05 01:13:18 EDT
---
Edwards Shear: I listed my shear on Ebay If anyone is interested. $.99 + shipping http://cgi.ebay.com/ws/eBayISAPI.dll?ViewItem&item=7527659250&rd=1&sspagename=STRK%3AMESE%3AIT&rd=1 Thanks Ken Kristiansen
- Ken Kristiansen - Sunday, 07/03/05 08:18:11 EDT
---
Machinery's handbook: I have found a used copy of a 19th edition machinery's handbook for about $18 wiht shipping. Should I buy it?
- Nolan Chase - Sunday, 07/03/05 19:18:45 EDT
---
Ralph: Great news there. Just make him take it easy. I've lost three friends so far this spring. I hope that is the end for a long while.
- Larry - Sunday, 07/03/05 19:51:06 EDT
---
Happy 4th of July!:

Hope nobody gets their fingers burned tonight. Y'all be careful out there! Wear safety glasses if you're up-close and personal with pyrotechnic devices. I like a light leather jacket, too.

Glad that Ralph is getting better; blood clots are nasty creations, and bear watching. I'm sure Dawn is exhausted too. We have to watch our health or we'll never get anything done. ;-)

(One month since I've been in the forge; and my mind keeps coming up with other projects beyond all the backlogged projects. All of my new and old medieval history, technology, craft and ironwork books are well thumbed by now, and littering the guest bedroom where the "firm" mattress, and I, presently reside. Sitting time at the computer is now about up; time to go flat on my back for a couple of hours. Argle bargle!)

NASA Fireworks!
Bruce Blackistone (Atli) - Monday, 07/04/05 09:25:44 EDT
---
Proper reenactor phrases: Is "Argle bargle" the Viking version of "Great Googly Moogly"?
Tim S. - Monday, 07/04/05 09:49:48 EDT
---
Great Argley Bargley: That's what I was going to ask! I might have to add that one to my list.
- Gator - Monday, 07/04/05 11:37:11 EDT
---
Machinery's Handbook: Nolan Chase.

A 1980 21st edition was just now available from abebooks.com for $7.00 plus shipping. The older books are good too, if you are interested in the historical aspects of wrought iron, steel manufacture, etc. I have a 1940 one that I like for that reason.
Frank Turley - Monday, 07/04/05 13:02:05 EDT
---
Machinery's Handbook: Nolan Chase... That would be about $10 for the book if shipping is included. If you don't have one, I'd go for it.
djhammerd - Monday, 07/04/05 18:03:23 EDT
---
Machinery's Handbook: Well, I looked on abebooks, and I saw a guide about tables based on the 21stedition book, but no 21st edition. I think I will go for the 19th.
- Nolan Chase - Monday, 07/04/05 21:45:04 EDT
---
nolan-- how about the 11th for ten bucks? Scroll down on the ABE search results page. Item 19.
miles undercut - Monday, 07/04/05 22:04:07 EDT
---
Somebody was asking re: damascus jewelry the other day. For something to shoot for, check out the nifty wares at http://www.studionamu.com/index.html The man has obviously been practicing a while. Or perhaps made a pact with supernatural forces.
miles undercut - Monday, 07/04/05 22:20:13 EDT
---
Argle Bargle: Actually, it comes from a reference in the National Lampoon's Parody: Bored of the Rings, in a footnote refering to the High King of Ribroast- "*Either Arglebargle IV or someone else."

Ye gods, I haven't read that since I was in college in '69! I just happened to have a copy on the shelf that i picked up at a used book sale recently, and double checked! But ask me for all my children's birth dates, and I'll hesitate. 8-0

Regarding "Great Googly Moogly"; I think it's a quote from Albert the Alligator in Pogo. I'll have to check my Ten Ever Lovin' Blue Eyed Years of Pogo, down stairs, when I get a chance...
Bruce Blackistone (Atli) - Monday, 07/04/05 23:09:24 EDT
---
Pen Holder: Well, I just uploaded a picture of my latest creation. Sorta. At least the latest that worked out right! Don't wanna talk about the knife. Anyhow, for Paw Paw's memorial, I made a nice cottonwood leaf. I liked it so much, I made another, but put a longer stem on it. Then I turned the stem into a large diameter corkscrew, and bent that up over the leaf, just past 90 degrees. So that now holds a pen, and the leaf is the base. My wife has laid claim to it already. So Larry or Sandpile, if you guys have access to the Anvilfire gallery, check it out.

And Larry, that book, The Frontiersmen, is turning out to be a pretty darn good book.
Bob H - Tuesday, 07/05/05 10:34:45 EDT
---
Machinery's Handbook: I have the 21st edition. I use it a lot. I wish I had a much older one too.
- John Odom - Tuesday, 07/05/05 11:23:01 EDT
---
simon kenton: was the man .......... how bout a fist fight with andrew jackson??? my sorta fella.........
blacklionforge - Tuesday, 07/05/05 17:05:52 EDT
---
The "Other" Handbook: As well as Machinery's [11th & 21st editions] I have "American Machinasts' Handbook" By Colvin & Stanley, 2nd & 3rd editions. This is a smaller book, the 2nd edition was My grandfather's from when He started in the machinast trade in 1919. A lot of interesting stuff, some not too usefull anymore.
- Dave Boyer - Wednesday, 07/06/05 01:02:01 EDT
---
Simon Kenton: Yep. Simon Kenton was quite a guy. In many ways he did more for the state than Daniel Boone. But he was also a character of some reknown. Had an illegimate son, and married a couple young ladies much younger than himself.

BobH and Alan. Went over and met Frank House the other day. Good guy. He showed me some parts for a flintlock pistol he is working on and invited me to come back when he gets his smithy up and going.
- Larry - Wednesday, 07/06/05 11:13:51 EDT
---
Argle Bargle: This seems to be a variant of "Argy Bargy" which is Brit slang for a "contentious argument". Seems like it might be a play on the word "argument" but,when I was a boy living in London, we always said it with a soft "g" as "Arjee Barjee" .
adam - Wednesday, 07/06/05 11:26:44 EDT
---
Tinker; did the Finn's come through for you after that "food" remark?

Thomas
Thomas P - Wednesday, 07/06/05 11:27:08 EDT
---
Larry: Yep, Frank (and his brother Hershel) is a good 'un for sure. Don't let him stay unbugged by you! You don't have to say much, just absorb what he shows you and bring him examples of your own for honest critique, and you'll be years ahead of the game. Would you believe that pistol I made for PPW is the first one I ever did? That's what sponging off of the House boys will do for you. (grin!)

Be sure to meet Frank's wife Lally too. She's one of the best quillworkers around, and fun to talk to also.

If you mention my name you may get kicked out, so be careful! Actually, they'll probably just say "Who?" so just tell 'em "That archaeologist from Tennessee who used to live in Morgantown." Hopefully that'll remind 'em.
Alan-L - Wednesday, 07/06/05 21:05:54 EDT
---
Alan-L: Way ahead of you. I have already met Lally and she was very nice. She met me at the door, invited me in and even offered me lunch. I also mentioned your name as well. They remember you quite well. At least Lally did. Frank said,"Who?" Lally said," You know. The archeologist that lives in Tennessee." "Oh, yeah."
You mean that was your first attempt at a flintlock pistol? From the workmanship, I thought you had been making them for years. I thought the reason you made it for Paw Paw was for critique. After all, he was so old he probably used one as a private. ..............Just ain't the same when you know he is not going to come back with something about his razor strap. Is it?
- Larry - Wednesday, 07/06/05 22:27:46 EDT
---
1907 Blacksmith Book: This is a nice old 1907 Blacksmith book on ebay #6192128617.

- burntforge - Wednesday, 07/06/05 23:32:25 EDT
---
Ebay Book-- Isn't this out as a reprint, too? (I'll check with Kevin when he gets back.)
miles undercut - Wednesday, 07/06/05 23:56:13 EDT
---
if you dont have a crosspeen hammer, will a straitpeen hammer work in its stead?
- antibeous - Thursday, 07/07/05 00:21:59 EDT
---
Cross/Straight Pein: Antibeous, don't worry about crossposting, as folks read both forums. Since you're asking for advice, the Guru's Den is probably the best place to continue this discussion.

That said, you may be better off with a crosspein (others who know what they're doing will have to answer "for real"), but iron-squashing is iron-squashing, and it will probably do fine until you find/buy/scrounge/make a crosspein.
Tim S. - Thursday, 07/07/05 01:14:19 EDT
---
fuel saga: In the last year or so I've gotten coal from several different sources. While I made it all work even for welding I've gotten some nasty stuff. One batch would smoke you out of the county. The last, from one of the two Indiana places mentioned in "the coal scuttle" produced enough clinker to cinder every road in the county. They won't let me put it in the road and I'm not sure just what to do with it. I was at one local hammer-in and asked about coal. They were getting ready to get more but I was told that there were some complaints about it when welding. This is coal from the second Indiana coal supplier mentioned in "the coal scuttle" though I haven't tried it myself. By far the best coal I've had was ordered from Kayne and Sons. Fine coal but once you add shipping it becomes so expensive that it's a shame to burn it. LOL

I have a commercial gas forge that I can weld in IF the burners are adjusted just right, I crank the pressure WAY up and have plenty of time to wait for things to heat. It's not exactly the hot rod setup that most of the blade makers build themselves and gas is getting real expensive. It's fine for working horse shoes and general forging as long as you don't need to weld and the pices will fit in it.

I though I'd buy some charcoal and give it a try. I found one bag in the grocery store...small bag for like $3.5. I figure it's goog for about 8 seconds of forge time. I found a farm store that had a bunch of the same charcoal for $5/bag...suitable for framming but far to expensive and precious to burn. I haven't fount a bulk source yet but decided to try my hand at making some...next post.
Mike Ferrara - Thursday, 07/07/05 07:10:31 EDT
---
fuel saga: I have a lot of trees that are always dropping branches and a barn that we've been working on. All that results in a huge wood pile in the middle of the property. The other day I punched some holes in the bottom of a burn barrel, set the barrel on some rocks to lift it just a little and piled dirt around the bottom leaving it open in just one small spot. I started a fire in it and filled it with wood. Once it was burning good I coverd the top except for a few inches and let it burn until the smoke thinned. Then I plugged the hole in the top (not air tight) and filled the remaining space at the bottom with dirt. BTW, I started this just before dinner. I let it smoke while I ate and had a beer then plugged it. By the next morning it was cooled off and I had about a 3rd of a barrel of charcoal. It looks good except I was not careful to use pieces of similar size and I tossed all kinds of stuff including some that was pretty rotten so it might not all be great for forging. I had very little ash and virtually none that wasn't coaled though so I did something right. Most of it looks very much like the stuff I baught. Going by the weight of what I got I doubt it's enough to keep the forge going for very long.

Last night I set up a second barrel and started chain sawing similar sized pieces. I'll see if I can speed things up a bit with the second barrel and more carefully selecting the contents.

I don't know if I can make it fast enough to keep up with my forge activities but the wood pile needs to go away anyway so the sawing time isn't wasted. It doesn't take long to get things started and then I can go do something else while the wood turnes itself into charcoal.

If nothing else, hopefully I'll get enough to partially fill my needs for good coal. Wood ash should also be much easier to dispose of than clinker.

Any tips from those of you using charcoal would be helpful. From what I gather it should take 8 - 10 times by volume to do the same as coal (the bricks to feathers thing)? If that's about right I doubt I can even store enough but like I said I'll use it "in addition to" rather than "instead of" gas and whatever coal I can get. Sound reasonable?
Mike Ferrara - Thursday, 07/07/05 07:45:39 EDT
---
Mike Ferrara,
I live in Very S. Indiana, and buy my coal from Cimberland-Elkhorn coal co on Swan St. in louisville. Call ahead to insure they will be there when you arrive. I like this coal very much.(Sewell seam sp?) I have used the coal from City coal yard in Braziel. I like the Cumberland-Elkhorn better. I just bought a pick-up load loose and the price loaded was $240/ton. Bagged is $480/ton. I think they shipp also. I believe that I dealt with Mike.
ptree - Thursday, 07/07/05 07:50:02 EDT
---
"Brush Pile" Charcoal:
If been using it for years, rick burned, for medieval forge demonstrations. Some semi~rotten wood doesn't do much harm to performance, it's just less weight per volume. Still, lots of sound stuff is good.

I build a deeper than normal fire, and use a whisk (as small bundle of broom grass in my case, but other configurations were used) to sprinkle water on the fire to keep it from growing too large. You do spend a lot more time tending the fire, in terms of both shoveling on the fuel, sprinkling, and configuring with a poker and rake, than you do with coal.

One trick for reaching higher welding temperatures is to put a sheet of metal over the fire to help reflect and hold in the heat. You can't really construct the classic "frog-hole" fire for welding like you can with bituminous coal.

It works well with a side-blast forge. With a bottom blast forge, when the coals burn down, you have to tend the fire even more or you get the "Mt. Vesuvius" effect, with breakouts of hot little coals fountaining up in the blast and landing in painful or ignitable places. Looks neat, but can be painful.

You also need to make sure (at least in my neck of the woods) that no poison ivy vines are mixed into the brush pile. These nasty beggers keep the oil in them for years! 8-P

On the plus side, it's clean, it smells good, it gets rid of the brush piles, and it's cheap.
Go viking!
Bruce Blackistone (Atli) - Thursday, 07/07/05 08:30:52 EDT
---
1907 book; Holmstrom & Holford: This American Blacksmithing book was reprinted in 1982. At a later date, Holford's book was printed separately as the "Twentieth Century Toolsmith and Steelworker". It is excellent, and while not including alloy steels, it is really good for describing the forging to tools for the various trades. Holford deals with high carbon tool steel.
Frank Turley - Thursday, 07/07/05 09:23:09 EDT
---
Tool Question: I am looking for a tool to start peenable rivits and setting burrs. Does anyone know a good source to get something like this? I have checked with different ferrier suppliers, etc. The only one I can find is a really bad one at Tandy leather
- BigfredB - Thursday, 07/07/05 16:03:06 EDT
---
BigFredB sounds like you want a rivet set; have you checked the big suppliers like McMaster-Carr? Or search for companies that sell PEXTO sheet metal tools?

Thomas
Thomas P - Thursday, 07/07/05 16:16:33 EDT
---
Thanks Thomas, I took a look at the McMaster-Carr site and found a Rivet Setter tool.

Do thier tools hold up pretty well?
BigfredB - Thursday, 07/07/05 16:26:23 EDT
---
Thomas P:
I'm not in bother again am I?
Tinker - Thursday, 07/07/05 16:27:50 EDT
---
What the world has to say:
My apologies for the length of this post, but I thought all things considered after todays attack in London, you may find it interesting.

United States President George W. Bush has said, "We will not yield to the terrorists, and will find them and bring them to justice."

Canadian Prime Minister Paul Martin offered his condolences to the families of the victims of the bombings. Martin has also requested Canadian flags on all federal buildings be lowered to half-staff.

New Zealand Prime Minister Helen Clark has conveyed to the British government the "deep shock and sympathy and concern of the government and people of New Zealand".

Australian Prime Minister John Howard has stated, "It's important that we stand shoulder to shoulder with our British allies at a time such as this."

Prime Minister of Israel Ariel Sharon said: "In these moments, Israel entirely expresses its solidarity with the people of Britain, aching with their pain, and sending condolences to the families of the dead and fast recovery wishes to the wounded."

Japanese Prime Minister Junichiro Koizumi has said, "This terrorist action will never be forgiven, but remembered with great indignation. I offer Mr. Blair my full support to his response, and will gladly cooperate in any way possible."

Spanish Prime Minister José Luis Rodríguez Zapatero has stated "I want to express the condolences of the Government and the Spanish people to relatives of the victims of this horrible attacks. I absolutely share the stated by my colleague Tony Blair. Moral strength of democracy is far superior than such vile and coward methods of terrorism."

Russian President Vladimir Putin has expressed his condolences over the attacks and has called on all countries to unite in the fight against international terrorism.

Dutch Prime Minister Jan Peter Balkenende stated: "Continuous intensive attention is required in the war against terrorism. Terrorism is an evil that can hit each European country. Cooperation in the EU and worldwide is crucial to counter this evil."

Swedish Prime Minister Göran Persson stated: "This is an attack on our open society."

Danish Prime Minister Anders Fogh Rasmussen has stated: "Again we're witnessing scruples' and barbaric attacks against completely innocent people – civilians, women and children... Terrorists use fear and terror as political pressure. We can't - and will not allow that. We shall never give in to terrorists."

French Prime Minister Dominique de Villepin called the attack "a tragedy for Great Britain" and "a tragedy for Europe as a whole which had already been hit in Madrid in March 2004." In a letter to Prime Minister Tony Blair, De Villepin also offered "immediate, full and total collaboration of French services in helping you identify the authors of these crimes."

South African President Thabo Mbeki has condemned the series of explosions on London's transport system: "As South Africa, we join the rest of the international community in condemning any acts of terrorism"

Norwegian Prime Minister Kjell Magne Bondevik has stated "On behalf of the Norwegian Government, I wish to express my deepest condolences and sympathy. My thoughts are with all those who were injured and the bereaved families, and with the people of the United Kingdom. We are mourning with you in this time of grief."

Hamas spokesman Moussa Abu Marzouk condemned the bombings, saying "Targeting civilians in their transport means and lives is denounced and rejected."[20]

Lebanese President Emile Lahoud said, "Lebanon, which has been the victim of violence for years, shares with the British their pain."

Moroccan spokesman and Communication Minister Nabil Benabdallah said "These heinous attacks underline the need for the international community to. . . unite its efforts to fight these acts and abort their objectives."

Chilean President Ricardo Lagos stated "Every Chilean repudiates what has happened today at dawn in London"

Tinker - Thursday, 07/07/05 17:34:27 EDT
---
My own view:
They've made a BIG mistake
Tinker - Thursday, 07/07/05 17:40:13 EDT
---
Tinker,
First my thoughts are with the British people.
Second, I do not believe that the people that made these attacks understand the British, just as they did not understand the Americans. We both will argue amonst ourselves about the right approach to a foriegn issue, debate in the houses of the government, and generally vent our spleens in a somewhat devisive manner. UNTIL we are attacked, in our homeland. Then I believe that the British will respond as we did. Take the fight to the homeland of the people that attacked us. They have so very differnt culture, so different wants and desires, that they do not understand us and we do not understand them. To put our cultural wants and desires to their minds is like thinking Kligons would want our style of goverment. 1+1 does not equal 2, it equals wood! I do not have an answer, but know that if we allow this to continue, another dark ages, just as is desired by these nuts will occur.
Again my thoughts and wishs are with the Britishy and all peoples suffering from terrorism.
ptree - Thursday, 07/07/05 17:54:22 EDT
---
Sorry for the wrong spelling of British, and I think also they made a big mistake.
ptree - Thursday, 07/07/05 17:55:34 EDT
---
Rivet setters: www.csosborne.com The C.S. Osborne Co. has been making rivet setters for well over 100 years.
Frank Turley - Thursday, 07/07/05 18:56:17 EDT
---
London Bombings: My deepest sympathy to all who were effected by the terrorist bombings in London. I too think the terrorists have made a grave mistake by attacking innocent people with the sole intenet of scaring a nation into surrendering to their demands. This tactic may have worked to a certain extent by influencing the elections in Spain, but I do not see the same effect in Britain. The Brits are too damn much like us to let it pass.
- Larry - Thursday, 07/07/05 19:41:50 EDT
---
Terrorism: Those who attack our families and not our soldiers, will find that their despicable and cowardly acts serve only to galvanize our people's determination to exact the appropriate penalty. You may survive attacking my person, but I can absolutely, unquestionably promise that you will not survive an attack upon my family. For that offense, I will hunt you to the very ends of the Earth and take appropriate measures to ensure that you and your co-conspirators have your birthdays revoked. Regardless of the personal consequences, I might add.

I sincerely doubt that many men feel any differently than I about this, regardless of nationality. We live on through our families, and if you take that away you invite a response from someone who has nothing left to lose, and is, therefore, a most formidable enemy. We would all do well to keep this in mind when contemplating ourown aggressions.

My sincerest sympathies go out to all who have suffered as a result of these senseless and brutal acts.
vicopper - Thursday, 07/07/05 22:01:37 EDT
---
terror abroad: It all boils down to this:

They ( the terror boys ) have proven that they can hit any one at any time. Thats why its called terror. I say that we get a C-1 and fly over with PIG bodies and drop em on them. Death by a " unclean " animal is a guranteed ' no get into Vahala' no matter what they do.( or Mose's bussum)
For an EYE opener do your selves a favor and read the Koran. Make an educated decision and act upon it( vote, demonstrate, make war or other wise.
- Timex - Friday, 07/08/05 03:36:36 EDT
---
Diminishing Returns: When it comes to terrorism, which only manages to kill a few of us, and anger the rest without doing anything to degrade our military or economic power, I take the John Paul Jones defence- they can't lick us if we won't admit we're licked. Even the commercial markets are recovering rapidly. Only our collective fearlessness will neutralize these threats, cause they can't kill us all, and we will hunt them down.

The British, God bless 'em, have been through this before and will tough it out. Meanwhile in D.C., everybody I know is going to be very careful not to start to leave any packages behind on the Metro, because if we do, half the car is apt to collar us and find out if we're careless, stupid, or evil; and they'll probably use whatever method that comes to mind to make the determination.

My only problem with the beefed up security is the issuing of automatic weapons to the guards. I think of it as just more stray rounds that the rest of us have to dodge. However, it does look impressive, and certainly has a deterent effect.

NPS is on heightened alert for terrorists; but now I have to worry about the hurricanes hitting Gulf Islands again, and the state of the salvaged collection. :-P

"I may die of exhaustion, but I'll never die of boredom." (Uncle Atli's Very Thin Book of Wisdom)
Gulf Islands, still recovering from Ivan.
Bruce Blackistone (Atli) - Friday, 07/08/05 08:50:24 EDT
---
Holmstrom Book fer FREE: http://www.usgennet.org/usa/topic/preservation/smithy/cover.htm
3dogs - Friday, 07/08/05 09:58:15 EDT
---
Larry: Sounds like a nice visit! That was my first and so far only pistol, but I did a few rifles before that and since. Thanks for the workmanship compliments! I find that if you start out with the help of the best in the field, you have a higher standard of comparison to begin with and nowhere to go but up, and since Frank and Hershel (and their brother John and Cousin Willie) were who I bounced my attempts off of, I was years ahead of the game right out of the gate. And yes, PPW said that pistol made him feel nostalgic...Now that he's no longer bound by physical location, I'd watch my back if I were you! (grin!)
Alan-L - Friday, 07/08/05 10:17:49 EDT
---
Atli: Hey Bruce, I've got one of those off the wall Viking questions for ya. How the heck do you make a horn,[blow horn] outa a stears horn? I've got several horns now, and it would be just the thing to agravate my companions at ronnvoo. But I don't have any idea of what to do to it.

Also Bruce, I am glad to see that I am not alone. Ref your earlier post about a bugout bag. I've been carrying mine in my truck since before 9-11. The old boyscout motto comes to mind, Be Prepared. Also, Better to Have it and Not Need it,Than to Need it and Not Have it. And I also like, Better to Die on Your Feet, Than to Live on Your Knees.
Bob H - Friday, 07/08/05 13:09:20 EDT
---
Bob H; remove horn core if not already gone (boiling for several hours and then a good sharp swing into a forked stick to "decant" the core works for "fresh" horns---note do outside to share amusing smell with neighbors. Or allow to rot out till loose---see previous note

The ends are solid so you have to determine where to slice it off to leave enough to carve into the blowing "cup" and not get into the hollow part.

Carving with a ball mill type bit in a dremel will work---wear a breathing mask!!!

The outside of the horn can be sanded or shaved down with broken glass and then buffed.

Some folks just truncate the horn and use a commercial moutpiece from a brass instrument.

Thomas
Thomas P - Friday, 07/08/05 13:38:53 EDT
---
­Bob H,: If youreally want to aggravate the folks at the rendezvous, why not use a conch shell? They're loud, they're obnoxious and best of all, they're not usually found in the midwest. And, unlike a steer horn, you can eat the insides. Wellllll, *you* can; I don't like them.


vicopper - Friday, 07/08/05 15:02:14 EDT
---
Vicopper,
Your comments re: terror and families as usual are right on the mark.
The idiots think they are the only clanish folks in the world. They should visit my mothers area of eastern Kentucky. Mix Scotts, Irish English and welsh with a dash of Native American, and isolate for about 00 years and you get some really family oriented folks.
ptree - Friday, 07/08/05 17:48:28 EDT
---
PTree; I had a friend with a bad lanolin allergy---you could use a lanolin containing skin cream before breakfast and if you shook hands with him after dinner he would break out from contact with it.

Well he used to be in the army and had the unenviable job of trying to reduce a missfire on a piece of pretty good sized artillery. He was straddling the barrel working on the breech from above when it self reduced. Newton's third law did a number on him including making a right proper mess of a sensitive area. Anyway while he was in the hospital a nurse changed his dressings in the said sensitive area with lanolin coated ones---they we so lucky that he was extensively restrained and sedated when the effects manifested...

This guy seemed a magnet for bad luck---I was at the campout (War of the Lilies) when his tent was struck by lightening---with him in it...I never camp near him as I'm afraid the escalation pattern is heading toward asteroid impact...

Thomas

Thomas
Thomas P - Friday, 07/08/05 18:30:00 EDT
---
Ralph Update: Ralph had to have blood, afterall. He got two units on Wed, which kept him in the hospital for longer than we were hoping, but he's coming home today!! I'm so glad. It's been a L O N G ten days!

Ralph will have our laptop with wireless Internet on his lap here at home by this afternoon, so I'm sure everybody will be hearing from him soon.

Thanks again for your support! Dawn
- Ntech - Friday, 07/08/05 18:42:40 EDT
---
Ralph, Glad to hear you are geting home. I don't know about you, but I heal better at home!
Get well soon buddy.
ptree - Friday, 07/08/05 21:25:06 EDT
---
vicopper: I don't know how they prepair conch in the VI, but the Bahamians do a great job with it, cracked, scorched, salad, chowder,or poached with vegtables. It is almost as good as turtle.
- Dave Boyer - Friday, 07/08/05 22:50:15 EDT
---
Conch: I've tried it all over the Caribbean(including the Bahamas), poached, cracked, fried, died and layed to the side, and I *still* don't like it. It just has a nasty taste, to me. Now flying fish I like, shrimp are good, crab delicious, lobster edible and many fish approach palatable. Clams, oyster, mussels and other critters from shells simply taste funky to me. One man's treasure, and all that. (grin)
vicopper - Friday, 07/08/05 23:16:23 EDT
---
Custom Art Piece: Hello,

I saw your page on the internet and thought someone might be able to assist me.

I do figurative art pieces (my wife calls them dolls - maybe they are) and am currently doing a representation of Don Quixote. I was hoping to have made the barber's basin that he uses as a helmet. Essentially it is a bowl attached to a round plate, with a semi-circle cut out of it. I work in 1/4 scale, so the entire piece would only be about 4" in diameter. I have a drawing available. I would like it made of brass, with no seams or welds showing, if that is possible. I can do most of the accessories with my figures, but I do not have all the metalworking tools required to accomplish this.

Would be interested in speaking to an artist about this project...

Thank you!

Phil
Phil - Friday, 07/08/05 23:42:33 EDT
---
Well I am back home now ( 7/08/05). Looks as if I will be on bloodthinners forever now. I have decided I hope to never have a pulmonary embolism Again. What you say? OK that is a clot in the air system. Mine was not actualy in the lungs, but was in the pulmenary arteries. In the 'saddle' between both lungs. By the time I got to ER the right was completly blocked, and the left was 80% blocked. Blood pressure was about 60/? O2 sat was 60% ( should be 90 or better) ER doc said to Dawn and later me that I was literally minutes from death. I was given a drug to dissolve clots( which has a BAD side effect of causing significant bleeding elsewhere) which I did. Fortunately it was in my surgery sight and I still had a drain tube and this allowed us to know.

But the effects wore off within 6 hours, and while not out of the woods we could at least see the light at the edge. Next day a follow up CT scan ( sure wish I could of had a 'dog' scan....grin) And it showed that the clot was greatly reduced and they were happy. The rest is being reabsorbed.
Man even thought the food was tasty after 10 days it sure was nice to eat dinner at home last night, even if it was only hamburger helper.

Of course that is not all.... Part of my surgery site opend up and now I get to have a wound packing done twice a day for an undetermined time. But it seems to already be helping.

Thanks for any and all thoughts and prayers and well wishes.

BTW sorry for any typos etc, but using mainly left hand ( I have a special sling on right to hold arm in a certain place) is sort different
Ralph - Saturday, 07/09/05 11:00:59 EDT
---
Ralph, That was a close call and we are all glad you made it. Let us know if there is anything we can do to help.
- guru - Saturday, 07/09/05 15:27:20 EDT
---
Helmet: Phil, There are many here that may be able to help you. I will also tell you how it can be made with few tools.

For dishing this type of object a wood "anvil" can be used. These can be a stump (section of log) of almst any type wood. Even pine is sufficient since we work against the end grain. In the stump you need a slight depression. About 1/5 of a hemisphere is sufficient. This can be carved or burned in. You may want several depressions. They do not need to be perfectly shaped or very smooth.

For a dishing hammer you can use a heavy ball pien hammer (a couple pounds). Draw concentric circles on the surface to be dished about 1/2" apart with a Sharpie(tm) marker. Then starting with the outer circle stretch the metal with the hammer using over lapping blows.

Brass sheet can be used as-is but after working may need to be annealed. Heat gently with a propane torch until almost a red heat then quench in water. This anneals (softens) the metal so that is can be worked cold.

See our news coverage of the West Virgina Armour-In (two years) for photos of this technique.

- guru - Saturday, 07/09/05 15:41:06 EDT
---
Ralph, glad you are home and getting better. Dog scans are reserved for ARMY and MARINE types. Bubble heads get the lessor CAT scan. :)
ptree - Saturday, 07/09/05 15:53:18 EDT
---
Charcoal:
Mike, about a half to third reduction is typical. The less air and the slower the coaling the less the loss. The professional coalier in Costa Rica that we talked to had about 50% loss.

Breaking up the coal into the same small pieces ranging from about 1" to 2" (25 to 50mm) will make a hot efficeint fire. Random sizes do not lend themselves to a small hot fire.
- guru - Saturday, 07/09/05 16:01:50 EDT
---
ptree, hate to tell you this and so do the Marines, but they are in fact part of the Navy. Ergo what is good for one Dept of Navy fellow is good for all...(grin) Except getting Dolphins. Have to earn those. Just like getting them jump wings. I know I could do it, but I am glad I never had to jump out of good airplanes.


BTW Nathan ( our Marine ) will be in Calif probably in sept or Oct going to high mountain survival and training. ( I assume this includes mounteering basics. Then 2 weeks leave near Christmas then Afghanistan in Jan. I am already praying for his safe return. This time around will be hard on Dawn and I , now that we have gone thru this once.
Ralph - Saturday, 07/09/05 18:24:44 EDT
---
Ralph, I know the Navy claims the Marines and even provides them medics. My father-in law and mother-in law were both Navy medical types in the Korean wat era.
Dog scans for doggies, and cat scans for bubbleheads and zoomies. :)
Take care to not rush into activities too soon. Pay attention to the Doc's and get well soon.
Nathan and all our service people are in my families prayers.
ptree - Saturday, 07/09/05 19:32:00 EDT
---
Ralph: Glad to hear you're back home and doing better. Take things slow and get well, friend.
vicopper - Saturday, 07/09/05 21:42:59 EDT
---
Great find!: After years of hearing about all the goodies you guys stumble onto for a dime on the dollar, or free, and being pathetically envious, I finally got a good deal of my own today.

A friend called to aske if I would come over to survey some welding equipment she wanted to sell, as she knew nothing about it. She had a near-new Lincoln AC/DC buzz box and a big old L-Tec MIG welder, abandoned by her ex-husband when he decamped a couple years ago. I didn't need either of the welders, but told her what to ask for them. What she *did* hjave that I wanted was a nice 3/4hp Baldor pedestal grinder in great condition. Not even any scratches on the eyeshields and the stones were new and square. She offered it to me for $50. I gave her more than that, since she's a friend, but only a little more than double that, since she's not *that* good a friend. (grin) She threw in three nice 4' Jorgensen heavy I-bar clamps since she wants to be a better friend. (grin)

That grinder fired up sweet as could be when I got it home and wrestled into the shop. Hums like a fine watch, and you can't bog it down no matter what you try. Finally, *I* got a good deal!
vicopper - Saturday, 07/09/05 22:13:53 EDT
---
Went to check on my wife's guest that got marooned with the card players (PeeKnuckle) when my wife had to go to work.

She was fine but one of the players was a retired metallurgist that said he wanted to give me some technical reference books if I was wanting them. So after church tomorrow I toddle off to get *more* *books*!!! I wonder if he has a complete set of ASM manuals he wants to get rid of...

vicopper; how are you going to become a right proper black hearted progney of unmarried parents if you keep *paying* for stuff!

Went scrounging after woork on Friday and brought home 15' of 3/8x3" flat stock in pretty good shape, also a bit of heavy plate and some other odds and ends---I need to figure out how to get the 1/2" sheet out of the dirt it's buried in and over to where the truck can get to it...

Gotta get enough stuff build up to build a treadle hammer this winter!

Thomas
Thomas P - Saturday, 07/09/05 23:57:49 EDT
---
Ralph: Glad You are back & over the worst. I will be dealing again with some issues of My own pretty soon, I know how You feel.
- Dave Boyer - Sunday, 07/10/05 02:08:22 EDT
---
Finds:
VIc, Even in some remote places there are finds. Josh bought a very nice 180 pound anvil in a Costa Rican antique shop for $50. I had an Algerian correspondant a few years ago that had collected a fairly complete shop very inexpensively.

People have all kinds of tools all over the world and they often get set aside when the owner moves or dies and are just waiting for a new home.
- guru - Sunday, 07/10/05 08:37:46 EDT
---
trip: I got back from the Myrtle Beach excursion last p.m.. Still have most of my sanity, & a little of my money :). The arthritic hip was doing the fandango the last 200 miles or so.

Did'nt see any ironwork to speak of while I was gone except for a stop at Tamarac craft center in W.Va.. Saw some nice work by the resident smith and a lot of Jeff Fettys flowers like he did at Quad State last year.

Going to take the funds I escaped with & spend two days this week taking lessons from a fine smith that knows what he is doing.

- Brian C. - Sunday, 07/10/05 08:45:45 EDT
---
Ralph, good to see you posting again! I agree with your decision not to have another pulmonary embolism, BTW.
Alan-L - Sunday, 07/10/05 09:42:44 EDT
---
TERRORIST: It is my understanding that the bombs are set off by ringing a cellphone.. it would be nice to ring every cellphone in the world every five minutes. Might blow up any terrorist, but would make them up-grade their methods.

It would not do to put an old red-neck like me in charge of this war on terrorist.

Heads would roll all over the JIHALD(sp) ISLAMIC world. It will finally come down to this. It will be a sad day for the entire world. Way too many innocents will perish or worst, be completely disfigured/disabled.

Sandpile
- sandpile - Sunday, 07/10/05 15:01:44 EDT
---
Might NOT blow up.
- sandpile - Sunday, 07/10/05 15:03:04 EDT
---
terrorist's: one might be advised to remember that this countries "war" of independance was fought using terrorist and insurgance tactics.... or the war we waged against the native peoples using germ warfare(pox blankets ect ect) its seems nowdays its unamerican to dissent or disagree with our countries leaders....... well i for one have studied our countries history the good the bad and the ugly... and of late there has been a false sense of patroitic fevor...... just look at pre ww2 nazi germany we as a nation are caught up in this might makes right b.s. ...........these folks that fight us in a insurgant manner do so because it would make no sense to do otherwise... our miltary would squash them like a bug----- no different than a colonal milita trying to stand up against a british army regulars........and in that same vein do we hold all muslim peoples accountable for the actions of the luntic right ? and if we do do we apply that to ALL christians for the actions of our luntic christian right wing ?(sniping abortion doctors.... bombing abortion centers ect ect) our countries sword(armed forces) no loger enforces our countries ideals and will..... but those of big business......... and as for heads rolling in the islamic world sandpile........ for less than the cost of one single cruise missle 20plus men where trained and stopped the country in its track for days........ and with they way our country bullies smaller countries/peoples.......there will be no shortage of suicide bombers lining up...... why?????? cause nobody likes a bully...... unintentional or otherwise.....my hope is that no more heads have to roll....... cause it wont just be muslims heads rolling............
blacklionforge - Sunday, 07/10/05 15:32:32 EDT
---
What I especially like about smiting and all enterprises and acquaintances attendant thereto is the attainment, however briefly, of a state of being alternate to and utterly removed from the usual daily drek, the boring boom-boom crudola and bombast that suffuse our time. Light that forge, Put that helmet down, strike that arc, and presto! another universe unfolds. Then I come in here, and what? Zzzzzzzz.... We've heard it, already. Okay? D'you suppose we might put a lid on it? Hmmm?
- Miles Undercut - Sunday, 07/10/05 16:47:54 EDT
---
Larry: Really enjoying the book about Simon Kenton. There is mention in there of a Joshua House. Any conection to your new neighbor? Also, some of the actions of the whites against the Indians were quite deplorable. And vice versa. Sounds like history repeats itself, in every war, just with different characters.
Bob H - Sunday, 07/10/05 17:41:55 EDT
---
TERRORIST: BLACKLION FORGE; I did not say one word about all the ISLAMIC or MUSLIM folks. Just the ones that have declared a JIHAD(sp) or how ever you spell it. If you want to pick a fight go some place else besides me. You are preaching to the pulpit.

Nobody said anything about the USA not being in the wrong from time to time. I am part Native and very proud of being part of the free world.

All of my girls have finished college and have good jobs thanks to their ed. They can drive, they deceide where and when they will go somewhere, what they will wear.

They all so don't have to worry about being stoned to death or their brothers and husbands having their heads cut off.

If you are going to compare apples to apples, stay on the subject.

I am done sorry for the rant.

Chuck
- sandpile - Sunday, 07/10/05 18:12:09 EDT
---
Damn,
seems the same folks are still stirring up trouble. Trying to pick fights where none should exsist.
I used to enjoy anvilfire but over the last 2 or so years there has been an influx of idiots.
I think I am going to bail out on what used to be a good group.
Ralph - Sunday, 07/10/05 19:46:18 EDT
---
Trouble: We live in a troubled world. Fortunately this site usually sticks pretty much to smithing. When politics comes up, the threads don't last very long.

Stick around, Ralph. This thread just ended.
- John Odom - Sunday, 07/10/05 20:45:16 EDT
---
ralph:
It was never my intention or aim to be political, or to raise a political argument. The recent events in London have directly affected my friends, and others much more adversly. I hope you you don't regard me as one of the idiots.
As awfull as it is, whats done is done. Miles has a very good point, so... (here's a diversion!)
If you do think I'm a p*****k does that mean I shouldn't bother calling in on my travels for a cuppa? (grin)
Ian Lowe - Sunday, 07/10/05 22:19:09 EDT
---
Oh the pain, the pain, the terrible pain---ASM books are hard on the back!

Went over after church and had a pleasent chat with a retired metallurgist. He's getting on in years and said he wanted his books to go to someone who would cherish them, even the old ones---so:

ASM Metals Handbook Vol 1 Properties and selection of metals 8th edition, 1961

ASM Metals Handbook, desk edition, 1985

ASM Metals Handbook 1948 edition (This is a duplicate, so the extra copy will go on the CSI sales table at Quad-State---unless the Guru wants it for hisself)

The metallography and heat treat of iron and steel, 1920 with a student's drawings of two Metallography instructors inside the front cover...

ASM Metals Handbook Vol 11 Nondestructive testing and Quality control, 8th addition, 1976

Metals in the service of Man

ASM The Story of Metals

ASM Man Metals and Modern Magic, 1958

ASM The Nature of Metals 1951

And "Cathedral Forge and Waterwheel; Technology and Invention in the Middle Ages", Gies & Gies also a duplicate; will probably give it to someone interested in medieval technology...

Although I tried; he would accept no payment for them and even promised to give me any others that turned up.

I have to log off and read myself a bedtime story---about metals...

Thomas
Thomas P - Sunday, 07/10/05 22:38:48 EDT
---
Thomas P : I guess You know who We are going to direct the metals questions to now, don't You? That is a great colection of books.
- Dave Boyer - Monday, 07/11/05 01:02:21 EDT
---
Thomas,
I tried emailing you, but it bounced.
If you do not have another home in mind for "Cathedral Forge and Waterwheel; Technology and Invention in the Middle Ages"
I would be honored to provide an nice home
Ralph - Monday, 07/11/05 01:34:41 EDT
---
Dave; direct them to the metallurgists; I'm just a Poser till we get to the pre-bessemer stuff

I was reading "The Story of Metals" at the breakfast table; said that about 75 of the elements were classified as metals and then went into which ones were. Written in the early '50's? a lot of them seemed to be labeled "discovered during the making of the atomic bomb no publically released use"

The Trinity site will be open this Saturday for the 60th anniversary of the first atomic bomb blast; I'll probably go but they sure are fussy about folks trying to dig up that piece of rusty scrap sticking out of the ground where the bomb tower *used* to be....

What with the heat out here and no air conditioning I'm surprised thay didn't end up with the Hydrogen bomb first.

Bank sign said 101 degF the other day and the humidity had soared to 13% as reported in Albuquerque...

Thomas
Thomas P - Monday, 07/11/05 10:25:15 EDT
---
Welcoming Party for Lonship Sae Hrafn (Sea Raven): In casw any of y'all are in this neck of the woods next Saturday:

God(s) and weather willing, the Longship Company will hold a welcoming party for the delivery of the Sae Hrafn on Saturday, July 16th, at 16:00 (that's 4:00 p.m. EDST for landlubbers and Marines) at Calvert Marina, located at the end of Dowell Road off of Rt. 4, near Solomons Island, Calvert County, Maryland. There will be a general survey, lots of measuring and sketching, a mercifully short board meeting, and lots of planning of future campaigns and adventures*.

Picnic dinners will not be amiss, and a celebratory mead horn or two will probably be hoisted.

Dress runs from daily shipyard to Longship Company T-shirt and jeans to full medievals according to your own proclivities, but nothing too fancy.

Members of the Press are most welcome.

Further information may be posted on the Longship Company website at www.longshipco.org . Please feel free to forward this information to other interested parties.

* "Adventure: A disaster that you survive, and therefore get to brag about!" (Uncle Atli's Very Thin Book of Wisdom & the Longship Company Manual)

Hotlink to LSCo
Bruce Blackistone (Atli) - Monday, 07/11/05 12:13:36 EDT
---
80# Fisher: I have a friend with an 80# Fisher anvil, who is willing to let it go at $2 a pound. It is a "london" style, rather like the cheap russian anvil, although it is an actual good one. When he got it, it was surplus, and not in very good condition. He has since cleaned it up, and it is in good shape. I still need to go over and take a gander at it, but is this a deal I should seriously consider? Im very tempted, as having a real anvil would be nice.
- Nolan Chase - Monday, 07/11/05 15:44:52 EDT
---
chuck: i wasnt trying to pick a fight i'm just sick of people taking aim on right wing muslims as if our own right wing christians arnt just as nuts.........i would also like to add that none of my statements or rants where directed to you as a person more so directed to what i 'thought " you had said.........if you felt that they where directed to you as a person i would like to say i'm sorry to you .........
blacklionforge - Monday, 07/11/05 15:45:16 EDT
---
ralph: i'm going ta address this in a public forum eversense i voiced my thoughts on who "i" thought would make a great chairman......... you have taken every chance to snipe at me thats fine i'm a grown man i can take........i understand your my "elder" as well as being in recovery for various different medical issues but does that entitle you to snipe and make veiled referances???? if so i would like to know............
blacklionforge - Monday, 07/11/05 15:54:35 EDT
---
"Cleaning up" does not change an anvil from beat up to good shape. Was it ground or welded on? Both can negatively affect the life of an anvil

$2/# for a beat up fisher??? Not a deal I would go for. 80# is pretty light for a smithing anvil anyway.

*BUT* things might be different in your area. Anvil prices do have a large component of LOCATION in them as they are expensive to ship. I don't remember where you are at.


Thomas
Thomas P - Monday, 07/11/05 16:39:19 EDT
---
Ralph, While Atli took a low snipe at Marines and the Army, re: the bit about 4:00pm, we both know that he really means Mickey's big hand is on the 12 and the little hand is on the 4. I suspect that a bubblehead with a Devildog son may have taught him about GMT.
Glad to have you back.
ptree - Monday, 07/11/05 17:49:41 EDT
---
What's that in UTC???

Thomas
Thomas P - Monday, 07/11/05 18:02:47 EDT
---
80# Fisher: Beat up is probably the wrong description. I dont think it was ground or welded on. as I said, I havent gotten the chance to look at it much, so Im not sure. All I can say is from his description of it. I live in Eugene, Oregon, by the way. By not in good condition, I beleive it merely needed cleaning. But then I dont know as I havent seen it. Ok, Ignore everything I have said. Say its an 80# fisher in good shape. Is $2/# reasonable for it?
- Nolan Chase - Monday, 07/11/05 20:08:51 EDT
---
Another White Sands pilgrimage: Thomas P's mention of the Trinity Site opening reminded me of an annual White Sands Missile Range pilgrimage to visit the home area and grave site of Eugene Manlove Rhodes. The pilgrimage takes place in October. Rhodes was the author of 12 novels which dealt with Western and ranch life, many of the settings being in Otero County, New Mexico. Rhodes had a clever way with words and spoke of cowboy life as it really was, not as that portrayed in the movies. He was born in 1869 and died in 1934. He moved to New Mexico in 1881. His best known novel, "Paso por Aqui" was made into a movie, "Four Faces West".
Frank Turley - Monday, 07/11/05 20:22:42 EDT
---
Cultural Advisory-- PBS has a thing on tonight called Guns, Germs and Steel, a Nat'l Geo 3-parter examining howcum some civilizations do it and some don't. On at 9 p.m. in the greater Albuquerque viewing area. (Followed at 10 by an historical thing about the Zulus clobbering the Brits, this time without the help of Michael Caine and Jack Hawkins.)
Miles Undercut - Monday, 07/11/05 20:55:46 EDT
---
Oops-- meant to say "clobbering the Brits, who are this time without the help of Michael Caine and Jack Hawkins.)"
Miles Undercut - Monday, 07/11/05 21:05:02 EDT
---
Politics, Marines, Telling time, etc.: I read somewhere that if you want a pleasant conversation with someone, don't discuss politics, religion, or sex. I peruse a few political blogs and find them entertaining and informative, yet they do manage to rile me up quite a bit. I come here to learn and be entertained. While there is nothing in the "Rules" banning political comments, the preference is to blacksmith-related topics. Therefore, I declare my political allegiance to the Anvilania Party. Their mission, as espoused by Chairman Hammerhead Knuckledragger, is threefold: blacksmith, talk about blacksmithing, and make Japanese swords from the bumpers of '75 Chrysler Cordobas. As for insulting Marines, Atli, you'll have to do better than that! What's a colon doing in the middle of 1600, anyway? Don't you know the REAL way to tell time? However, I'm impressed you didn't put "hours" after it. Very nice pics on your website. Wish I could be there to see your boat come in, though it would look better with Marines manning the rails! Heh heh!!! Semper Fi!

Koomori - Tuesday, 07/12/05 02:06:28 EDT
---
Nolan C : The point about anvil pricing is that it depends on who is selling. Antique dealers seem to find them most valuable, next are the blacksmiths, cheapest are the people who stub their toes on them in a poorly lit basment. If in really nice shape that may be reasonable on the grounds that You can't get a good new one for that price, but You need to see what else is available in Your area to make a comparison. Sorry not to be able to give a Yes/No answer. I think the recomendation on this site points to about 120# as a minimum for general work [2# hammer].
Dave Boyer - Tuesday, 07/12/05 02:12:37 EDT
---
Politics, religion, threads: I've noticed that about this time of year, folks seem to have so much going on that they don't discuss projects that much and drift off onto the thin ice of politics, religion, and other areas where angels fear to tread. I find myself itching to post a lambaste or two myself from time to time, but I try to fight it off. The only thing I could do by posting my rants on touchy topics would be to irritate those who disagree and agitate those who don't, so what's the point? I'm not likely to change anyone's mind.

My grandma used to tell me, "Rich, never, ever try to teach a pig to sing. It's a waste of your time and it only annoys the pig." I try to keep that in mind when I find myself reaching for the keyboard to share my thoughts on some subject that is better kept private.

The worst fallout from such posts is that they get people riled up, and those folks post replies before they really think it over. This ends up with loaded words being used, and the fire justs gets hotter. When dealing with issues of personal beliefs, whether political or religious, it is difficult to address only the thought and not the thinker. Thus, we get posts with incendiary wordds like idiot, fool, redneck, pinko, ad nauseum, and rational thought goes out the window and rage takes over. In a medium such as the 'net, where actual fisticuffs is impossible, too many folks take the governors off their mouths and go beyond what is acceptable. Face-to-face, not many would be that verbally combative, lest they wind up having to back up those words with action. And that is a situation in which *no one* wins.

So, while posts on religion and politics aren't expressly forbidden here, good sense would suggest that they be kept to an absolute minimum and VERY carefully thought out before posting. Any posts that directly attack the person ARE forbidden. There just isn't any reason to descend into name-calling here. Those who wish to do that are encouraged to take that stuff to one of the adolescent chatrooms. Let's keep things mature and reasonable here, okay?
vicopper - Tuesday, 07/12/05 08:40:30 EDT
---
RANTS: Sounds great to me Rich. BTW; Is an ad nauseum a commercial for Ipecac?
3dogs - Tuesday, 07/12/05 10:00:41 EDT
---
Marines, Time, and Religion & Politics: Koomori:

I had to put the colon in 16:00, because if I didn't, our folks would take if for the year and show up dressed like a bunch of renaissance fops! I spent a couple of summers at Quantico MCB back in the very early '70 as part of the PLC program, before they concluded that I'd probably be more useful as historian than as a Marine. They gave me an undeserved HD and everythin'!

Time:

Okay, that's 2000 UTC (GMT). ( Hmmm, that would have the crew back celebrating the Millennium and planning a Y1K solution to Y2K!)

Religion & Politics:

I don't mind as long as the discourse is carried on with reason, knowledge and politeness. Unfortunately, these are areas that are very important to all of us, and we are frequently passionate in our statements and responses. This is the non-technical tailgate area of Anvilfire, but we should always conduct ourselves as the ladies and gentlemen we aspire to be. As for those of us who predate or postdate the ideals of Victorian chivalry, let us behave in honorable ways towards each other; a concept even a Viking can grasp. ;-)
Bruce Blackistone (Atli) - Tuesday, 07/12/05 10:29:05 EDT
---
Politics Atli---what do you think about the Jarl of Orkney's hankering after Dublin?

Thomas
Thomas P - Tuesday, 07/12/05 11:21:38 EDT
---
Y1K Politics and Religion; & Sleds: I mean, honestly, would you throw your lot in with someone call Sitric Silkbeard?

Dublin's a nice place to visit, but I think Sitric is dragging the alliance to Hel in a handbasket! And speaking of Hel (may she keep her icy fingers from all our friends) don't even get me started on the Bocmen and their holy stuff that keeps creeping in. Next thing y'know, I'll be down to one wif, and not more than a half dozen concubines.

The whole world is just falling to pieces!


Smithing Content:

Two more weeks of light duty and then I can start smithing again, as long as I don't overdo it. Down to one medication, and that runs out tomorrow. I've almost finished the iron work for one sled, and had started swaging down the runners for the other when I was "interupted."


Commercial version of the sled I'm ironing:
Bruce Blackistone (Atli) - Tuesday, 07/12/05 13:01:34 EDT
---
Viking and educated barbarians: Bruce, the viking Allthing laws were often very good sense and extremely practical as befit the times. Guests were treated with the utmost respect in a longhouse and came under the protection of the house under althing laws. A convicted murderer became the property of the victims family under Allthing laws, he would spend the rest of his days ensuring that they did not suffer hardship because of their loss, on pain of death (which to an educated barbarian makes much more sense than just killing them)
The viking concept of honour still runs through Englands blood, and its ancient ebb can still be found amongst the dusty annals of English law. 'Common Land' and 'rights of way' are all originally from those beer swilling, looting and pillaging barbarians.
They were a lot more educated than people think :)
Ian Lowe - Tuesday, 07/12/05 13:13:56 EDT
---
Now Gentlemen, this is an educational site, as well, so, Bruce, got a question for you. Have you run across any good research on Gotland? I'm moving my SCA persona's homeland from the overcrowded Iceland, and closer to my Russian husband's stomping ground. I keep finding sites that would PROBABLY be great, IF they were in English.
Monica - Tuesday, 07/12/05 14:45:18 EDT
---
Atli: I didn't know Vikings drank Coctails. And if A Viking is making a sled like that, shouldn't it have a woman figure head up front?

Ian, I don't even want to know what a "dusty annal" is!
Bob H - Tuesday, 07/12/05 14:49:01 EDT
---
"Gotland, the Pride of the Baltic...":

The above to be sung to the tune of Columbia the Pride of the Ocean. ;-)

Not a primary source, but worth the trip:

http://cunnan.sca.org.au/wiki/Froejel_Gotlandica_Viking_Re-Enactment_Society

And some information on their ships and boats:

http://search.atomz.com/search/?sp-a=0001098c-sp00000000&sp-q=Gotland

More later, and I'm sure Thomas can come up with a few sources, too.
Bruce Blackistone (Atli) - Tuesday, 07/12/05 15:47:39 EDT
---
OOPS!: An indirect reference for Frojel Try below
Frojel & Gotland
Bruce Blackistone - Tuesday, 07/12/05 15:50:50 EDT
---
Religion & Politics: IMO rasing these topics on this forum is just plain bad sense.

It is very, very difficult to have a useful discussion on these two subjects. I am not talking about an essay, or a monologue, or a rant. I mean an actual exchange where ideas are offered and tested and everyone comes out knowing more than when they started. TV, newpapers, radio, books ... in any of these its very hard to find examples of *constructive debate* mostly it is people shouting at each other and not listening. It's no surprise. It takes a lot of work and a lot of discipline to think effectively about these topics. Most of us arent up to it ( I include myself). But that doesnt stop us venting passionate opinons - no sir! On technical stuff we often have good discussions in which people disagree and the whole exchange is very profitable for all sides. But religion and politcs? Fuggedaboudit!

Another thing is this: what brings us together is the craft and everything to do with it. But we are a very disparate group with politics and religious beliefs to match. Talking about metal work tends to bring us closer together. Talking politics and religion is almost always divisive.
adam - Tuesday, 07/12/05 16:01:09 EDT
---
Gotland: Thanks, Bruce.

I keep getting little snipits and teasers like "but the brooches in Gotland had a different, distinctive style all to their own..." with no depiction, or even description there-of in my General-Norse sources. It's like Gotland was an afterthought thrown in by the authors.
Monica - Tuesday, 07/12/05 16:32:20 EDT
---
What time period for Gotland---I don't think it sunk beneath the waves in 1066 (or rose up out of them in the 700's...)

I can start looking though...

As for Sitric Silkbeard---I was once married into his family---when I was Brian Boru at the Dublin OH (sigh) Irish Festival...

Thomas
Thomas P - Tuesday, 07/12/05 16:37:40 EDT
---
Ok, be specific, Thomas... 900-1000, for a ballpark to aim at.

My original persona was right at the cusp of Christianity, before any major kings got baptised, but that was just an excuse to get my family to Iceland (old sources said that the first wave of settlers was Chrisitan, but they returned to the old ways withing 1-2 generations.) Now I nolonger have to have a reason for moving, as Gotland has a long history on the traderoute to Russia. So I have a choice to redefine my "birthday" forward or backwards, depending on if I uncover any earthshaking events in Gotland. If I find them in English.

Now, to confess, I've only done a few nights hunting on Gotland specifically, but the language issue was frustrating me. As I knew I had atleaast two good resources here, I decided to see what directions y'all could point me in.
Monica - Tuesday, 07/12/05 16:55:23 EDT
---
That should have been "OK, make me be specific, Thomas"
Monica - Tuesday, 07/12/05 16:56:20 EDT
---
Politically correct: Thank God ....No Wait! I think i just brought religion into this post. .......... Well, I sure am glad that we can just talk about real stuff here.
Okay Alan-L, You said you made one of your pattern welded blades out of a timing chain with out the aid of a power hammer. Can you give some info on the process? Like how you prepped the chain? What heat you brought the cahin up to? What size hammer did you use? Did you have a striker to help with the forging? How long did the process take?
Waiting with baited breath? That's right. I been eatin' sardines.
- Larry - Tuesday, 07/12/05 19:41:11 EDT
---
timing chain/chainsaw chains: larry 1st thing degrease chains..... clean metal forge welds best..... as for heat forging welding heat is what you want if your throwing sparks its too hot... for setting your weld a lighter hammer is fine....light tapping blows for the setting after the welds are set you may use a larger hammer with or without a striker....time? depends or how fast you are or if you have a striker or not....... most of the time i can get a chainsaw chain welded togatherand in a blade shape in bout 30 to 40 mins depending on my fire and other issues.........
blacklionforge - Tuesday, 07/12/05 21:19:16 EDT
---
timimng chain blades for Larry and his trained sardines: Ummm.... Okay, I'll do it step by step.

1. Go to junkyard, find timing chain lying in the mud, make sure it isn't too rusty.

2. Wire brush chain to get rid off most of the gunge. Place in coal forge and bring to high yellow heat.

3. Flux the living heck out of it, bring back to high yellow, carefully beat the heck out of said chain, paying attention to its desire to disintigrate if overheated. By carefully, I mean be aware of how to forge weld high-carbon steels and be aware of the cottage cheese effect alloy steel can bring to the party. Don't hit too hard, nor too soft, nor too hot, nor too cold; make goldilocks happy. (note: my wife is a brunette!) High yellow is as hot as you can risk with any scrap not known to be 10xx steel.

4. Repeat step 3 until no obvious flaws show up.

5. Fold now solid length of timing chain over on itself and repeat step 3.

6. Wait one year or until inspired by early 19th century blade shape made near where you grew up, continue forging former chain billet into blade.

7. Belt grind, file, and sandpapr blade into desired shape, heat-treat, clean up, and mount in desired handle.

All kidding aside, I used my trusty 40-oz. crosspein from Tru-Value hardware and a load of patience to get from chain to blade. There's no Damascus pattern too hard to do by hand except maybe the powder-metal mosaics. There's no blade profile except a hollow grind you can't do with files and sandpaper. Starting from a greasy, muddy chain, I had a usable once-folded billet in about two hours. Add eight or ten more for the finished knife you saw. No strikers, no use of treadle hammer, or anything else but brute finesse and the belt grinder. Standard issue MAP gas torch for the silverwork, yearling spike elk for the antler. Add a bit of informed zen, as in, be unable to concieve of the blade not ending up the way you want it provided you do your part with the steel's heat preferences, and there you are.

Did you ever see a picture of the Migration-era pattern-welded pointing trowel I made for my archaeological mentor with only hand tools?
Alan-L - Tuesday, 07/12/05 21:30:23 EDT
---
Gotland Brooches: As I remember, the famous "box brooches" were from Gotland. Circular, with a removable (or hinged) lid enabling you to stow stuff in them. I don't think they occure (or if so, they're very uncommon) in the rest of the Viking world.

Gotland is blessed with a rich (and mostly scientifically excavated) cemetery, an intermix of cultures, the ever-lovin' picture stones, and a cosmopolitan population of traders from the East and the West. On of those islands, like Man, that were cultural crossroads.
Bruce Blackistone (Atli) - Tuesday, 07/12/05 22:36:35 EDT
---
Alan-L : So the chain becomes the blade because it does not know how NOT too ? LOL
Dave Boyer - Tuesday, 07/12/05 23:20:20 EDT
---
Great phrases: "Brute finesse"

One of the better ones I've ever heard about this filthy pastime we share! Thanks, Alan.
vicopper - Tuesday, 07/12/05 23:34:33 EDT
---
Time to go to the mountians-to do the make a living thing. Ya'll play nice while i'm gone. God Bless and stay safe. Will see ya in a couple of weeks, Jimmy
- jimmy - Tuesday, 07/12/05 23:59:39 EDT
---
Tools , poor boy : Ken do you make any, or have you made any lefy tools
I having to learn how to hammer lefty due to a minor prob with my rt arm.
- Timex - Wednesday, 07/13/05 02:31:08 EDT
---
Dave: Pretty much! (grin!) Thanks, too, Rich.
Alan-L - Wednesday, 07/13/05 08:50:10 EDT
---
What smithing tools are "handed" save for a few asymetrical tongs used for specialized purposes?

Thomas
Thomas P - Wednesday, 07/13/05 11:02:40 EDT
---
Thomas, some hammers can be, once dressed. It seems that Jock and I both have the hammer distorting to the same side. Of course, he's been at it longer than I have, so his hammer is much more warped....
Monica - Wednesday, 07/13/05 11:20:29 EDT
---
Monica and it's so hard to dress a smith on a grinder; noisy too!

Thomas
Thomas P - Wednesday, 07/13/05 16:29:06 EDT
---
ThomasP, My wife has been trying to dress me for almost 30 years and has seldom been successful.
Also when dressing smiths on a grinder, the smell is pretty bad, and as most are extremely hard headed, I would think a diamond wheel would be indicated.
ptree - Wednesday, 07/13/05 17:31:09 EDT
---
Ptree as I understand it, it's best to forge as close to final shape as possible using a B780 Nazel and do as little finish grinding as you can...

Thomas
Thomas P - Wednesday, 07/13/05 18:00:40 EDT
---
ThomasP,
In about 1981,I was invited to take my"Lovely Young Bride" thru the shops on an evening tour arranged for the ASME. She was a good sport, and went on the tour with the then 67 year old President/Chairman while I took a bunch of engineers. The president offered her a job in the forge shop if she decided to quit practicing law. She told me at home that while she loved the law, she had been quite impressed with the big Erie steam hammer. Now you have revealed why a 25 year old, freshly graduated 96# would be impressed with the 25,000# drop hammer. She was planning to forge me to "near net" to reduce the grinding!
And to his dying day he always referred to every wife as "Your lovely Young Bride" and sounded as if he really thought that. I really miss that guy, a true gentleman, fine engineer, and knew how to run a company.
ptree - Wednesday, 07/13/05 19:51:13 EDT
---
Left-handed tools: If you've ever used a pair of my "mistake" tongs, you'll quickly see the value of left-handed tongs for lefties. Those things drive me nuts! I can't easily open them one-handed like I can the ones that were made correctly.

I have a large supply of gloves for lefties, too. Since I only use a tong-hand glove, and wear them out pretty prodigiously, I have a couple dozen right hand gloves lying around unused.

Other than tongs and gloves, I'm unable to think of any tools that are "handed", so to speak. There must be others, I just can't think of them.


vicopper - Wednesday, 07/13/05 22:29:42 EDT
---
Timing chain: Thanks Alan-L and Blacklion. You make it sound so easy. Got one buddy who is a mechanic and another who runs a junkyard. Gonna' have to go do some looking.

Monica. Be careful trying to dress down Jock. Grind too much and the Carhartts won't fit right. Nice to hear from you again. I was at the hammer-In for Paw Paw. I was the ugly guy with the beard. That ought to really help with the indentification.
- Larry - Wednesday, 07/13/05 22:33:20 EDT
---
left handed tools: There are a few top tools that are handed, but they can be easily changed by inserting the haft into the other side of the tool eye. Examples are butchers, side sets, and horseshoers' creasing fullers.

A local farrier injured his left tong-holding hand and came to me to make his tongs easier to use. I put a small link on one rein end and "sawtooth tensioner" on the other rein end. That allowed him to hold the tongs without worrying about applying pressure to the reins.

As for Timex's query, these tong rein keepers that are on the market or that can be made will do the same thing as what I've described above.
Frank Turley - Wednesday, 07/13/05 22:43:31 EDT
---
Frank: Thank you for that, I was going nuts knowing that there weere more that I couldn't tink of.
vicopper - Wednesday, 07/13/05 22:50:14 EDT
---
Atli's Honorable Discharge: An "undeserved" Honorable Discharge? Naaah, but I'll bet you've got some funny stories to tell over a few mugs of mead! It's funny, the Corps is big on history, especially now. They had (still have?) retired officers following the grunts around DURING this war, interviewing them and writing down their tactics and experiences. Too bad they didn't use you.
I like the sled you're working on, but I agree with Bob; there should be a maiden's head, or at least a fearsome dragon's head on it! Maybe you can get the Guru to make a downsized version of that one he shows in the IForge demo! :-D
Hey, Timex, I have a left-handed metric Crescent wrench to go along with my hammer. It works great! ;-)
Semper Fi!
Koomori - Thursday, 07/14/05 00:13:25 EDT
---
Left Handed: Add hammers to the list. Mine was custom made left handed with a left slash or pein, and the handle is tuned left handed. I have used Bill Epps' personal hammer and it is definately right handed.

Pencils, fountain pens, and calligraphy pens are manufactured left handed. I have several and they work very well.

There are left handed rulers, golf clubs, pianos, guitars, sissors, playing cards, coffee mugs, ladles, pans for the stove, kitchen knives, the Swiss Army knife, sythes, sickles, plasterer or cement floats, left handed computer keyboards, and of course cars. An anvil could be considered left/right handed depending on the direction of the horn.

I know that you can be left/right footed and left/right eyed. Left handed people can adapt to the right handed world, but the right handed people seem to have problems when it is necessary to do things left handed. The brain may be left/right oriented also. (No offense toward either side.)

There are dangers to being left handed as circular saws are right handed. Chain saws are right handed as the weight distribution, and saw design are set up right handed. The chain brake is for right handed use and using a chain saw left handed can cause injury due to the configuration of the machine.


- Conner - Thursday, 07/14/05 01:35:58 EDT
---
NO ONE HERE: OH WELL, bye BYE
- ANTIBEOUS - Thursday, 07/14/05 02:19:36 EDT
---
Lefty: Tape measures. Have you ever noticed how they're much more convenient for lefties? To read it right-side-up, you set the hook on the left side of the board. If you're lefty, you drag the tape with your right hand, leaving the left free to make the mark. A "righty" would have to cross his arms or mark with the wrong hand. A righty's tape would have the numbers reading right to left.

I'm a lefty who hammers, bats, uses scissors, etc. with my right hand. It's normally a right-handed world, so that's probably why lefties are better able to adjust. We're just used to it.

One thing I was able to do when building a deck some years ago is hammer lefty when my right got tired. I haven't tried yet blacksmithing, but maybe I should. The tong thing might be weird, but I'm a lefty. I'm supposed to be able to adjust, right?



- Marc - Thursday, 07/14/05 07:39:28 EDT
---
Nothing beats the tangy aroma of chestnuts roasting on an open fire on a snowy street, just ask Nat King Cole, John Denver, Celine Dion, Mel Torme, snd their accountants. Longfellow's blacksmith prolly had a windfall going, a little pan brazier out on Brattle Street in front of the shop, with the prentice out there hustling them by the bagful to starving Harvard and Radcliffe students on their way to class in the frosty morn.
Miles Undercut - Thursday, 07/14/05 09:50:39 EDT
---
ANTIBEOUS; this isn't a chat room, it's a forum.

Chestnuts are sweet and so a nice hot treat on a cold day, we always get some for christmas and roast them in the fireplace on a slate or on the woodstove on the soapstone---they are done when they "pop".

I'm right handed but my left arm was my power arm after years of carrying calculus and physics books around. Our safety officer also suggested that we learn how to mouse left handed to take the strain off the right arm. When I took fencing in college two thirds of the class was left handed so I always had problems when I had to fence a righty...

My anvil horn points left, right; or up at the ceiling depending on what I'm doing...

Frank, your right, I never thought about a butcher!

Thomas
Thomas P - Thursday, 07/14/05 10:29:25 EDT
---
Thomas,

I'm not sure I want to know What you were doing with the horn pointed to the ceiling....
Monica - Thursday, 07/14/05 12:14:07 EDT
---
The anvil was standing in (up) for a cone mandrel.

Thomas
Thomas P - Thursday, 07/14/05 12:26:48 EDT
---
Anvilize This!: A strange double horned anvil is on eBay. 6193818646 The seller says it's a Columbian and it has a "C" in a triangle, but it also has a distinct euro pattern, as well as a raised, footed base. I don't remember seeing anything like it in my Postman book; perhaps the trademark is a coincidence.
6193818646
Roy - Thursday, 07/14/05 13:48:38 EDT
---
Left handed: Vicopper, is it not the police that go around telling folks they can not have left handed cigarets?
- Conner - Thursday, 07/14/05 14:51:38 EDT
---
Roy, Isaac Doss, a smith in NW AR, had a 400# doublehorned Columbian anvil that I lusted for; since Columbian are cast steel it makes it fairly easy to offer a number of patterns. I think it's a real one.

However at over $4 a pound it's pretty expensive, especially for OH. He's pricing it about the same price per pound as a new Nimba Centurion that has the same "euro styling".

Thomas
Thomas P - Thursday, 07/14/05 15:01:26 EDT
---
Roy, there's a picture of one of those in the Postman book, used as an example of anvils made for the South American market. I agree, it's way overpriced. Not that I wouldn't provide a warm, loving home for it, you understand, just not at that price.
Alan-L - Thursday, 07/14/05 15:20:50 EDT
---
Oh, and Larry: I resemble that remark!
Alan-L - Thursday, 07/14/05 15:21:11 EDT
---
conner: Sorry, that reference is one that I am totally unfamiliar with, even after a lot of years as a cop. You'd have to explain it to me, I guess. Or maybe I'm missing something obvious, which sometimes happens to me. :-)
vicopper - Thursday, 07/14/05 15:27:33 EDT
---
Proper salt ratio for brine quenching: Need to know what ratio of salt to water you fellas use to brine quench railroad spikes, when making blades and such. I think the spikes I am working with are the 3% carbon type.

Thanks!
T.N. Miller - Thursday, 07/14/05 15:57:56 EDT
---
Thomas and Alan, thanks for the input, I'll have to look at my Postman book when I get home. South American market! Makes sense, with all the German smiths that settled in Argentina. I wonder how successful that was, given the transportation costs, since they would have had to go by sea they couldn't have had much advantage over European anvils.
Roy - Thursday, 07/14/05 16:08:04 EDT
---
oops: I meant to say I had .3% spikes.

Skipped a decimal point :)
- T.N. Miller - Thursday, 07/14/05 16:08:38 EDT
---
TN, the only salt quench I'm familiar with is with molten salt, no water.

It was a fairly specialized setup, but the bladesmith was a college professor that tends to over-engineer some things to reduce variables as much as possible. We had a meeting at his place with him doing a demo on dagger making. I was not the only one NOT surprised when the first thing he did was pull out the chalk, and go into geometry/algebra and blueprints.
Monica - Thursday, 07/14/05 16:20:57 EDT
---
Larry: And "I" was the good looking bearded one!

At the hammer-in, a young lass picked up Paw Paw's rifle, and it was imediately obvious that she had never held a gun before. Then, Monica picks up the same rifle, and whoa! This girl can shoot! Just by watching, you could tell.

Rich, Left Handed Lucky's, are what I heard them refered to. As in some of that stuff from Cheech and Chong.
Bob H - Thursday, 07/14/05 16:21:19 EDT
---
Salt Quench II - One thing he stressed was that the molten salt had to be treated with the same care and respect as molten metal. Absolute care must be taken to NOT have moisture on the blade to be quenched. Something about essentially explosions resulting when the water flases to steam, and sends molten salt spraying in all directions.
Monica - Thursday, 07/14/05 16:26:31 EDT
---
Anvil/Cone Mandrel: Thomas, you just gave me an idea... 40# anvil + post vise = cone mandrel... :)

I've noticed that I'm very much ambidextrous in some things, and in others I'm very much right-handed. I try to cultivate the use of my left hand in case I injure my right. My mom said that when I was real little she made me stop using my left hand for stuff like drawing, etc... Dangit, Mom! LOL. I guess I will give some of those left-handed tongs a try.
T. Gold - Thursday, 07/14/05 16:28:28 EDT
---
Thomas: Antibeous this isn't a chat room it's a forum: Really, thanks for clearing that up for me. Anyway I had a question,but it seems that all I get here is someone else to get smart with me. Maybe I should've went ahead and posted my question, but it was late and my girlfriend wanted to go to bed. Now Im sorry to anyone who wasted their time reading my little four word sentence, and I promise it wont happen again. Not getting smart but I'll post my question in the Guru' Den. Thanks
- ANTIBEOUS - Thursday, 07/14/05 16:34:08 EDT
---
Bob, they handed me the rifle the night before, when I got there. It was HARD to pry my hands off it. It's not just a point of fit and finish, it's the whole balance, etc. Shoulder that rifle, and she drops right in line and will sit on target.

Alan, I'm still in awe that you haven't been doing rifles for years. I know folk that have done rifles for years, and never gotten on with that balance. They were cumbersome, and unnatural to hold and aim. Once again, Wow.
Monica - Thursday, 07/14/05 16:34:17 EDT
---
Antibeous - "NO ONE HERE: OH WELL, bye BYE"... More than one person has posed here, and in the Guru's den, that has seemed to think this was a chat room, and no response in 5 minutes meant that they were being ignored etc. I do not think Thomas was trying to be smart with you. I read the post the same way Thomas did, that you were expecting a chat room.

That being said, it's fine to put a question here, but Guru's den is the usual place for that.
Monica - Thursday, 07/14/05 16:40:06 EDT
---
Monica: Thanks! I figure if you're gonna make something, why not make it good? My first non-kit rifle was a 38" barrelled, .58 caliber monster of about 8.5 lbs, but it still came to shoulder like it was meant to.
Alan-L - Thursday, 07/14/05 16:51:19 EDT
---
Vicopper, A left handed cigaret and Left Handed Lucky's are slang for a marijuana cigaret. Slang is sometimes short lived (this being 60's era) so it is understandable you may not have heard the expression.

- Conner - Thursday, 07/14/05 17:09:21 EDT
---
Monica, are not some rifles and pistols made left handed?
- Conner - Thursday, 07/14/05 17:13:45 EDT
---
T.N. Miller: Brine is a proper quench. It should be a 5% to 10% salt solution with water, and the temprature should be kept below 60ºF. I use rock salt of the kind usually put on the steps and sidewalks in winter.

Brine is a quicker quench than water or oil, because it has the ablility to "throw scale" off of the work almost immediately. This allows the liquid to contact bare metal right away rather than scale.

0.30% carbon content steel is right on the fence between mild steel and medium carbon steel, so you shouldn't expect to get the brittle hardness that you would with a high carbon steel, 0.70% to 1.3%.
Frank Turley - Thursday, 07/14/05 17:17:39 EDT
---
The traditional brine was "calibrated" by mixing in salt till it would float an egg. Probably a fresh one and not one dried out in a refrigerator for a while...

Frank; I thought it worked cause it raised the boiling point of the solution and it's the vapour barrier (steam) that slows down cooling with regular water; now a more severe quench would blow off the scale as well which would help so maybe it's a bit of both.

ANTIBEOUS; it was meant as an information post as we have seen a bunch of folks who think it's a chatroom. I will say that if you plan to hang around with blacksmiths a certain thickness of hide helps---as well as eyes in the back of your head, some smiths have been known to play a practical joke or two...ask Ric Furrer about the floating eyeball in his quench tank one Quad-State when he was demonstrator...

Thomas
Thomas P - Thursday, 07/14/05 18:47:38 EDT
---
Brine throwing scale: Quenching in brine, because the scale is thrown, the vapor blanket is less prolonged as well. Scale and the vapor blanket are undesirable insulators, if you want a rapid quench. The vapor blanket is formed of multitudinous tiny bubbles on the surface of the metal when it is quenched.
Frank Turley - Thursday, 07/14/05 19:50:41 EDT
---
Conner: I assumed that the reference was to marijuana, but in all my years of law enforcement, (1971 to present), and having been a college student in the 60's, (draw your own conclusions about that), I just never heard that particular expression. It may have been a regional one, or associated with some particular profession or situation, too. It was not in use in Colorado during the late sixties or early seventies, I'm sure. Interesting to hear it though, thanks. I learn something new all the time here. :-)
vicopper - Thursday, 07/14/05 20:43:23 EDT
---
Brine Quench: I've never used a brine quench in a commercial setting, just water, oil, and various levels of polymer quenchants. The water and oil both had heat exchangers, high pressure pumps, and venturis for very agressive agitation of the bath. That said, I'd agree with Thomas P, that I was told a brine quench was more agressive because it inhibited boiling, thus retarding the formation of the steam vapour barrier that actually insulates to a degree.
- Gavainh - Thursday, 07/14/05 22:27:38 EDT
---
Left handed cigarette: I am of approximately the same vintage as Rich and I hadnt heard this expression either. Its always a good day when I learn a new word. :)
adam - Thursday, 07/14/05 23:05:12 EDT
---
Brine Quench: The last place I worked had a water quench for heat treating heavy truck frame members, I don't know for sure that it was brine, but I think it was. We used the scrap sidebar stock in the toolroom for backing plates under punches and dies, when heat treated in Our department it was quenched in brine. Brine makes everything a rusty mess.
Dave Boyer - Thursday, 07/14/05 23:40:05 EDT
---
Left Handed Circular Saw?: My Dad was a carpenter from '46-'04, He always prefered a Skill "Worm Drive" saw [with the blade on the left]. He claimed that the others were left handed. Now You can get spur gear driven saws both ways.
Dave Boyer - Thursday, 07/14/05 23:50:16 EDT
---
More Lefty's & Righty's: My uncle did a lot of roofing for a period of years, He was right handed, the guy He worked with was left handed. One worked from each side, nobody had to work in an aquward position.
Dave Boyer - Thursday, 07/14/05 23:58:03 EDT
---
Saws: I have both the blade on the lef tand the blade on the right saws. I use the blade on the left for framing and the blade on the right for panel work. I've done it that way for years, ever since Porter Cable started offering the option.
vicopper - Friday, 07/15/05 00:01:22 EDT
---
vicopper:We have had both types allso, Dad's argument was that a right hander gets a better view of the blade if it is on the left.That may have come from starting out with a hand saw.What can You say to a guy who had worked at it 60 to 70 hours a week for 58 years? When He finally started to loose strength in old age, He switched from the Skill"77" Worm Drive to a left blade Porter Cable "Saw Boss". His left handed employer was of the opinion that the right blade saws He provided were fine. I have a right blade P. C. framing saw Myself, but do prefer the left blade saws.
Dave Boyer - Friday, 07/15/05 02:15:01 EDT
---
Sinister Dexterity: Remeber, you put your left handed swordsmen on the RIGHT side of the boars snout, and your right handers on the left side of the wedge.

The Sae Hrafn spent the night in Virginia, and shoud be arriving at the Marina this afternoon. Anyone who wants to drop in on the party on Saturday afternnon (see above) are certainly welcomed.
Our customay slip, the first on the left on the dock at the bottom of the picture
Bruce Blackistone (Atli) - Friday, 07/15/05 08:18:55 EDT
---
Conner, Rifles, yes. With bolt actions, the bolt is left or right handed. For Semi-auto, the brass ejection can be set to left or right for some rifles. In others, there's a Brass Deflector on the rifle, to keep the hot brass from being ejected into a leftie's shirt, and the rifle is considered ambidexterous.

Pistols, to my knowledge, only if there's a special grip. For instance, the 1911, with standard grips, is ambedexterous.
Monica - Friday, 07/15/05 08:40:55 EDT
---
That beautiful anvil on Ebay 6193818646 has what looks like a cone mandrel sitting behind it. Wonder if it might be for sale, too?
Miles Undercut - Friday, 07/15/05 10:59:47 EDT
---
Left/Right Handed: Add flintlock (and I assume percussion) rifles, fowlers and muskets as another tool that is available right or left handed, depending on lock location.
- Gavainh - Friday, 07/15/05 12:19:35 EDT
---
Pistols: Many revolvers and pistols are NOT made to suit a lefty at all. Smith and Wesson, Colt, Ruger and others all make their revolvers with the cylinder release on the left side of the frame. This works well for right handers, but is a nuisance for a lefty. Try it with your off hand sometime and see what I mean.

Likewise for pistols. Many do not have ambidexterous safeties (though they are becoming more and more common), and almost all eject to the side that favors a right hander. Left-handed, the suckers spit hot brass in your face and lap. A deflector is not a viable option if the weapon is carried for combat.

I noticed just now that my automatic knife is right-handed, too. Trying to open it with my left hand is a bit of a nuisance. I'm going to have to remember that lefties aren't as much of a threat with a switchblade. (grin)
vicopper - Friday, 07/15/05 15:21:01 EDT
---
forging hammer for sale : #200 Chamburberg Utililty Hammer and 5 to 6 sets of dies
With hammmer for $7500.00 OBO. Many sets of tongs etc. avilable,clearing out! Everything in excellent condition.
- stephen sokoloski - Friday, 07/15/05 17:06:06 EDT
---
Sorry to Screw up the flow.
The Email for the hammer for sale is stephen.sokoloski@sympatico.ca and phone 1-1613-537-8639
stephen sokoloski - Friday, 07/15/05 17:14:36 EDT
---
Thomas: I was a little quick to judge as Monica pointed out to me yesterday, and in being so quick I wrongfully said some things to you in defense of myself. I would like to appoligize to you and anyone else that took acception to my remarks. I wont let it happen again.

As for thickness of skin. I welcome the occassional shot, and have been known to play a practical joke or two myself. This isn't sarcasm, I just want everyone to know that they can joke and enjoy my company as well as yours or anyone else's although it is a forum.

Floating Eyeball: would love to hear about it
- ANTIBEOUS - Friday, 07/15/05 17:38:30 EDT
---
Well folks; I had a fellow turn left right in front of my pickup this morning---they type of metalworking I hate the most!

Chalk me up as a stiff necked old coot for a while and looks like replacing the truck is going to crimp the budget for a bit too. Since it was totaled out from last October's hail storm---drives blast it *drove* fine just looked like a golf ball---I don't think his insurance company will give me what it would take to replace it.

Thomas
Thomas P - Friday, 07/15/05 20:06:34 EDT
---
Thomas: When you go to talk to his insurance company, be sure to wear a cervical collar brace. They might be more amenable to settling reasonably on the truck, after you say, "Awww, I don't think this neck will amount to much, I'm just being careful for now, but I sure am worried about losing work 'cuz my truck's totalled." (grin)
vicopper - Friday, 07/15/05 20:17:12 EDT
---
Thomas-- Herewith my deepest sympathies. That was an amazingly serviceable and handsome vehicle. I hope you can rebuild it if a near-facsimile is not available. Likewise, I hope you are not badly injured. Don't sign any releases. Sometimes whiplashes, etc., take a while to appear.
Miles Undercut - Friday, 07/15/05 20:50:55 EDT
---
Left handed: You folks must not have checked the fittings on your Oxygen and acetylene tanks lately. If you notice, the don't go the same direction.

- Conner - Friday, 07/15/05 22:40:25 EDT
---
Alti: In that picture is the Tekee Bar & Bowen's Inn just off the upper right corner, and Your slip down closer to Washburn's ? Or am I lost on this picture. Is the top of the picture aproximatly south? I have never seen Solomons from up high, I guess next time there I will have to go up the mast for a look.
Dave Boyer - Saturday, 07/16/05 01:06:30 EDT
---
ThomasP, As one who was badly whiplashed in the 70's from a car wreck, do not sign releases too soon. I am pretty sure that you woke up this morning to the new, hopefully temporary reality of a whiplash. Everything hurts. It took me several weeks to get over the stiffness. Get the neck examined by a doc. Of the 6 people in our car, three were female. All three had cracked vertabre, but only one went to the doc. All three have long term effects. One male was 4 months old and was in a car seat, no injury. My brother and I were both hard core skydivers at the time, and had necks that were 4" bigger than normal. We were uninjuried as far as long term, but jumping was off my list for several months. We were sitting in a car at a light when struck by a drunk from behind at about 45MPH.
Take care, and don't rush into anything.
ptree - Saturday, 07/16/05 07:58:50 EDT
---
Columbian double horn anvil: Hi Roy
That is sure a nice Old Columbian Double Horn Anvil. The double horn anvils are hard to come by in a Columbian. The faces are harder than most forged anvils and they seem to hold up well. I think the price on the anvil is fair. I like everyone else would like to be able to buy one like it for half the price. Just remember Columbian has not been made since the early 20's. It is a better anvil in my opinion than a Nimba who Jock informed me just recently went out of business :( . Keep in mind what a new Nimba cost. The double horn anvil on ebay is just about in new condition. Just my thoughts. Enjoy

burntforge - Saturday, 07/16/05 08:19:03 EDT
---
Thomas, Ouch! Sorry to hear it.

Sam Colt was a lefty. Next time you're playing with an SAA, try loading it while holding in your right hand. The original Colt cap-n-ball revolvers are the same. John Browning, on the other hand, (pun intended!) was a righty. Thus the controls on the 1911.

Columbian anvils: I didn't say it wasn't worth it, I just said I couldn't afford it!
Alan-L - Saturday, 07/16/05 08:27:57 EDT
---
Thomas: Bad break. I hope you heal up quick. What ptree said. My experience is that ins co. can be surprisingly soft on small claims if you are stubborn. They are under pressure to clear their desks and only really dig their heels in on the big stuff.
adam - Saturday, 07/16/05 15:25:19 EDT
---
Actually I felt fine while the adrenalin was pumping; started to hurt after I got to work so my boss drove me to the ER---*lots* of cerical X-Rays---seems my shoulders were obscuring the pictures for 1 vertabra and they tried everything---through the mouth, holding weights---here your neck and shoulders are hurting hold these weights...laying flat, finally got it in a "swimmer's position" smithing can affect your X-Rays I guess.

The insurance Co has an on-line claims site---but it doesn't work for mozilla running on linux---they expect folk to run windows and internet virus attractor/exploder.

This morning I had my first severe insulin reaction, sitting at the keyboard after breakfast waiting for forgemagic to load and I wake up with the EMT's standing over me pumping sugar into me---another trip to the ER and a "hangover" to go with my whiplash.

1 more to go to close out "things come in threes"!

Thomas
Thomas P - Saturday, 07/16/05 18:32:44 EDT
---
Handedness: Yes, the oxygen and fuel threads are of opposite hand. BUT they can both be operated equaly well with either hand.
- John Odom - Saturday, 07/16/05 18:35:04 EDT
---
Thomas P.: Take care. Rest when you can.

I thought that only NMex drivers were bad, but I just traveled cross country by auto, first to Oregon, then to Maine and back. Drivers are bad all over this land of ours. And road repairs are rampant in every state we were traveling.

¡a su salud!
Frank Turley - Saturday, 07/16/05 19:43:07 EDT
---
New Father: Yes folks, I am the proud papa of brand new, bouncing baby powerhammer. 88" tall, about 1500#, with a 10" reach and 65# head. I lit it off for a quickie test run today, to see if my hundreds of hours of work would amount to anything, and boy does it go!

I was running it off my wimpy little 2hp/20gal compressor, so it was a mite air starved, but it still was sufficient to allow me to take a piece of 3/4" square and forge a cattail in one heat. I am thrilled!

The tough part is having to take it all apart again so I can sandblast and paint it, and re-plumb it with copper lines instead of the hose. I'm really going to miss it while its down for beautification.

While I was still all stoked over the hammer working, I burned off a little steam wiring in the new 2-stage compressor and checking it out. I still have to score some pipe and plumb the shop for air, but that's just a matter of standing back and throwing money around, mostly.

Did I mention that I really love my new air hammer? (grin)
vicopper - Saturday, 07/16/05 20:39:16 EDT
---
Yeah, Thomas, cool it a while, why don't you. By my count you've already had your three for this round: the initial impact, the secondary impact and now the tumble off the chair. Lay up and read some Proust.
Miles Undercut - Saturday, 07/16/05 21:11:09 EDT
---
Thomas: You kind of sound like a friend of mine. His daddy once told him, " Boy, you need a gardeen". (I spelled it like he pronounces it.) I think we are going to have to appoint one for you.
Did anybody hear anything about Rich having his air-hammer running? I wonder how he likes it?
- Larry - Saturday, 07/16/05 21:23:11 EDT
---
American Drivers, Thomas, and Tiki Bars: Frank; don't you know that if you surveyed our drivers, everyone would respond that they are "above average"?

Thomas; now that I'm getting back into shape, you go and get whomped by an "above average" driver. As Egil Skalligimson used to say: "Sometines life is hardly worth taking."

Dave:

Yep, that's Molly's Leg sitting there; I knew it when it was a sandbar full of seagulls. Washburns would be in the lower right part of the white area of the page, and the Calvert Marine Museum off the page at the right near the bottom.

Well, our ship has finally come in, and the crew is thrilled. Needs about a month of painting and fitting out, but we hope to have her in full operation by September, at least in the rowing mode. She's going to be fast, that's for sure.

All of you take care out there amidst them English!
Calvert Marine Museum, (which has a forge exhibit)
Bruce Blackistone (Atli) - Saturday, 07/16/05 22:52:19 EDT
---
new hammer: ok rich pics of the new baby ???? name ???? interested to know how that thing worked that 2.25 inch toolsteel............ i know you have ta be stoked.... congrat's............
blacklionforge - Sunday, 07/17/05 07:55:23 EDT
---
Note: Note to Self-

Cotton duck aprons do not hold up to sparks from a 4 in. flap wheel. They catch fire at a very inappropriate spot. (grin)

Thomas P.- take it easy. I am right behind you, after the afore mentioned small fire, I cut the back of my thumb while fixing supper (dont ask). Now waiting for the 3rd shoe to drop (grin).

Rich-congrats on the new hammer. You going to bring it to Quad State to show it off to us?
Brian C - Sunday, 07/17/05 08:23:09 EDT
---
Rich,
Are you sure you like your new hammer?
ptree - Sunday, 07/17/05 09:22:43 EDT
---
Read Proust? I'm waiting for Godot but seem to find No Exit!

Actually I'm off to church to offer thanks that I did see him in time else I would have hit around 45 mph and don't think I would be in my own bed last night...no airbag.

I've already called and thanked my father for DEMANDING!! that we always use seatbelts till I don't feel "dressed" in a car without them and have been known to dig out ones that have been burried for years when riding with other folk...

Still feel like I have been beaten with clubs---but some folk *pay* for that...

Thomas
Thomas P - Sunday, 07/17/05 10:17:00 EDT
---
Brian and Cotton Duck Aprons:
Dunno what's wrong with yours :) I've been using a denim apron for years while grinding with no problems. I found a formula for fireproofing canvas online a while back (was going to make a foundry apron):

Into 3 pints water mix 1 cup ammonium chloride
(available from drugstore or chemical suppy house)
and 1/2 cup ammonium phosphate
(available from a garden supply store).
Soak cloth well and let dry.

I will try it someday...

Rich, pictures of the new iron-mashin' baby???
T. Gold - Sunday, 07/17/05 18:14:32 EDT
---
aprons: T. Gold-

I dunno either. Must have just been a concentration of sparks in the right place 'cause it made a heck of a hole in the rascal. Talked to Dad today about it & he said it wasnt unusual. Said he had burned up many a cotton smock in his 50 years making orthopaedic braces. :) Normally I wear leather, but when it's 90 deg. and 98% humidity sometimes I compromise.

Stayed out of the shop today. I figured with this rather nasty laceration to the thumb, it would be a bad day to miss setting a rivet & smash said digit. Would probably produce a childish reaction of the wet trouser type. :)
Brian C - Sunday, 07/17/05 18:31:11 EDT
---
columbian anvil on ebay: I must appoligize to anyone that was interested in the doublehorned anvil I had on ebay. It was breaking my heart that I had to sell it. I found another way to come up with the money I needed so I ended the auction early and am going to keep it. Thank You very much for your interest.
- Welder_jim - Sunday, 07/17/05 20:10:47 EDT
---
The grand tour: Okay people, I'm asking for help. Has anyone got any contact details or has heard of a German Smith called Manfred Bredhol? He demo'ed at an ABANA conference a good few years back and hails from Aachen. I'm trying to find him. He seems like a good contact point for information on german smiths (if he's still around) I've already fired off a message to Hephaistos, and through them have been given contact details for FattlerDesigns in the Blackforest region. Anyone have a german penpal? Or have you heard of him?
Thanks

Tinker - Sunday, 07/17/05 21:23:56 EDT
---
Brian C: Check the grinding disk you were using. When I worked in the welding shop my son was dressing a weld down and set his jacket sleeve afire. While he went to have his scorched arm cleaned up and checked, I picked up the same grinder and promptly set my all cotton workshirt afire. Seems as if the boss had bought some cheaper grinding disks made in Korea from some joker who stopped by the shop. I threw them back in the tool room and slipped back on a Flexovit. No problems from then on. Must have been the chemical composition of the disk itself.
- Larry - Sunday, 07/17/05 21:36:13 EDT
---
Tinker: If I'm not mistaken, I believe Bredhol passed away some time back. I don't know any details. I'm sure somebody else can tell you. I used to see him mentioned in Anvils Ring once in awile
- Jeff G. - Sunday, 07/17/05 21:48:52 EDT
---
Manfred: Yes, Manfred has passed to the other side. I don't have details, but Helmut Hillenkamp stays in touch with Hephaistos and has other German contacts. Your search engines can probably find him. Helmut's business is "Iron to Live With" in Santa Fe.
Frank Turley - Sunday, 07/17/05 22:04:25 EDT
---
New Hammer: I did a bit more fussing and puttering with the hammer today, but no metal mashing. Today was just properly fitting up some of the hastily slapped together hardware; lock washers, Loctite, torque to load, that sort of thing. I took a jcouple of hours andmade the trip across the island to the hardware store to pick up the necessary fittings to change out all the plumbing to hard pipe, as I think it will be more controllable without the bounce that flexible hose allows. I'll get the plumbing changed over the next week or so, I suppose. The only thing that got mashed today was some wood, just to keep from smacking the dies when testing.

I still have a bunch of little stuff to do, like make the Delrin™ gib-screws for the tup anti-rotate guide, make a mounting plate for the 4-way spool valve, make a mounting plate for the air FRL unit, and of course, clean and paint the thing. I DID manage to get the wiring in for the new 2-stage compressor, but I still have to plumb it into the metal shop. Not enough hours in a day, it seems.

But yes, I do like the new hammer. It is so much better, stronger, more connsistent and more accurate than the hammer I was using before. (grin) It doesn't keep wanting to stop and rest and have a smoke all the time, either. (grin)

I'll take a couple of pics of the hammer in the next few days, but I'll get some good shots of it when it's painted. I always say, "Putty and paint will make it what it ain't."
vicopper - Sunday, 07/17/05 22:16:12 EDT
---
Tinker . More German.: A website for German tools and equipment is www.angele.de

Heiner Zimmermann is a renowned German smith residing in Pliezhausen. He is a friend of a friend and has a website:
www.atelierzimmermann.com
Frank Turley - Sunday, 07/17/05 22:39:08 EDT
---
The Grand Tour: Thanks Jeff, not much point in chasing ghosts :) Thanks for the heads up. Frank, I will try to track Mr Hillenkamp down and have a chat with him if possible. I'll also fire off an email to Mr Zimmermann. Hopefully he will take pity on a poor travelling iron pounder :)
Seriously though, thanks guys.
Good stuff.
Tinker - Monday, 07/18/05 07:46:47 EDT
---
Wow! : I want a shop (and a website) like Herr Zimmermann's!
Tim S. - Monday, 07/18/05 16:26:30 EDT
---
Tim S, I'll split it with you. Which half do you want?
Gronk - Monday, 07/18/05 18:55:51 EDT
---
I was thinking the same thing Tim. Now I have a serious case of shop envy.

FredlyFX
http://fredlyfx.com
FredlyFX - Monday, 07/18/05 19:17:42 EDT
---
local blacksmiths: I am from Iowa and just moved to Arizona and would like to know of any shops or blacksmiths I could get in touch with. I had to leave my forge and all my coal back home and I am looking for a new supplier
- Travis - Tuesday, 07/19/05 14:45:08 EDT
---
Travis: I don't know exactly where you are in Arizona, but Pieh Tool Company is located in Camp Verde, about 90 miles from Phoenix. They advertise here on Anvilfire, so you can go to the advertisers index and check them out.

Also contact the Arizona Artist Blacksmiths Association. I posted a link to it for you.
az-blacksmiths.org/
vicopper - Tuesday, 07/19/05 15:26:51 EDT
---
apprenticeship: I am a student at the Waldorf School in Orange County, Cal.The school has a hands on approach to finding out about a subject and I have chosen swordsmithing as my 8th grade project subject.I have always wanted to forge my own sword, but after reading about apprenticeships and about blacksmithing itself, I realize I have a long way to go in accomplishing my goal. My parents are willing to help support me with driving and some money, and I am willing to work hard in and around a shop in hopes that I might be able to forge a sword of some worth in one year. Ideally, I could start somewhere in Southern California, where I live and go to school.Can you help, or direct me somewhere for assistance?
Cody in Cal - Tuesday, 07/19/05 16:26:47 EDT
---
Cody. Contact CBA: www.calsmith.org is the contact for the California Blacksmiths Association. They might be able to help.


Frank Turley - Tuesday, 07/19/05 17:24:00 EDT
---
Cody there is a group that is affiliated with CBA that meets in Orange County at Discovery Museum in Santa Ana. I was there last year for a demo and they are nice guys with a nice setup.

If you go to calsmith.org and click on the classes button you can get the exact contact info. You might also want to check out the classes in Vista. They have a very nice setup there as well.

FredlyFX
http://fredlyfx.org
FredlyFX - Tuesday, 07/19/05 18:07:13 EDT
---
Travis:Coal: If you are in the Phoenix are the AABA (link posted by vicopper above) or Western School of Horseshoeing 602 242-3811.

I'm up in the Cave Creek area. If you are close by and want to drop in let me know.
dief - Tuesday, 07/19/05 23:56:10 EDT
---
Cody: There are excellent Blacksmithing classes offered in Escondido (near I-15 and CA-78) at the Bandy Blacksmith Shop in Grape Day Park. The next class starts Sept 10. Contact the Escondido Adult School http://ae.euhsd.k12.ca.us/ and http://www.escondidohistoricalsociety.com/content/education/blacksmith-classes.htm for more info. For insurance reasons, you'd have to drag your mom or dad there to sign up and attend the classes with you. If you'd like to see a picture of the shop and a short story of its history, go to www.escondidohistoricalsociety.com/content/heritage-walk-museum/b-blacksmith-shop.htm It's a bit of a drive from Orange County, but it's definitely worth a look. Call the Escondido Historical Society at (760) 743-8207 to see if the smithy is open this Saturday from 1:00 to 4:00 pm. It is often manned by a volunteer or two from the Bandy Blacksmith Guild from during the week, too. Heck, if you can make it this Saturday or next, email me or reply to this post and I'll give you a tour.
Koomori - Wednesday, 07/20/05 00:23:32 EDT
---
Travis: Az Artists Blacksmiths usually has bulk coal and/or coke for sale to members....Western Horseshoeing used to sell coat at $5 per five gallon bucket. I've used it, Colorado coal, decent quality, fair amount of clinkers.

Also, when you have time you will want to visit Phoenix Forge (they are in downtown Phoenix) nice shop.....you can do a yellow page search, I don't have the phone number handly. Lots of demos are held there.....

Welcome to the land of the Solar Forge....grin!

Ellen
Ellen - Wednesday, 07/20/05 14:21:48 EDT
---
visit: Monday I stopped by Ken Scharabock's place near Waverly TN.
Ot os always nice to meet another smitn and put a face with a name. I got the Columbian vise with missing parts. I think I can restore it OK. Thanks, Ken

John Odom from Chattanooga (Visiting in Ark.)
- John Odom- - Wednesday, 07/20/05 15:03:55 EDT
---
Attention all CSI Members!: Go to the member's forum to read the announcement about the upcoming election of permanent board members.

FredlyFX, Vice-Chair CSI & Chair of Nominations Committee
FredlyFX - Thursday, 07/21/05 02:22:18 EDT
---
Fairbanks Hammer: Just finished moving my new power hammer. What I first thought was a Litte Giant, turned out to be a Fairbanks #50. The nameplate was obscured when I saw it. Still Very Cool. Move Worked out well, no injuries to human or machine.

I am jumping up and down with excitement. Can't wait to hook it up and forge something with her.

Anyone out there near the Eastern Panhandle of West Virginia with one of these that I could take a look at? I would be interested in advice on restoring this one.

Mark
Frog Valley Forge
Mark@FrogValleyForge - Thursday, 07/21/05 23:17:39 EDT
---
Mark-- Admirable website! Great shop! Handsome work!
Miles Undercut - Friday, 07/22/05 13:37:35 EDT
---
Blower: Greeting to all,
I have a Sturtevant blower,which I found in an old shop that was closing down. Casing is about 300mm in diameter and vane diameter about 200. Anyone know anything about the history of Sturtevant? Would be most happy to hear the comments of this most illustrious group of blacksmiths who seem to be able to answer almost all questions. Thanks.
- Kevan - Friday, 07/22/05 14:52:12 EDT
---
Just back from the tow lot; the insurance adjustor says my poor old truck is totaled. Now to see if they will give me anything for it---of course they can't tell me anything till Monday so I lose a weekend of truck shopping, the downside of living in the boonies: I have to go to the big town to have any selection and so can only shop for another truck on weekends and so losing *another* weekend hurts. Sure makes me want to go easy on them!

Thomas
Thomas P - Friday, 07/22/05 16:43:31 EDT
---
450 lb and 200lb anvils @ auction: Hartzells Auction Gallery in Bangor, PA will have two anvils, a forge, two leg vises and an anvil vise at their July 29 auction. One is a 450 lb cast monster with a 250 lb cast base with near perfect face that is a joy to work on. The other is a 200 lb. Peter Wright in fair to good condition that is very usable. Sale starts at 2 or 3 P.M. pictures should be on their site by Monday the 25th.
FDO - Saturday, 07/23/05 06:42:29 EDT
---
ThomasP,
Holding a wake for the "passed" truck?
ptree - Saturday, 07/23/05 11:52:03 EDT
---
VIcopper; NRAO has an opening for a Tech out on St Croix, (employment link off of nrao.edu) I was only tempted a little as I'm a bit herder and just barely survived moving my shop when all it had to cross was land...

But if you know anybody in electronics that you would like to see 100 feet in the air over St Croix...


Ptree---after they cought up the dough Praise no day till ended no horse till ridden sort of thing...

Thomas
- Thomas Powers - Sunday, 07/24/05 00:35:10 EDT
---
A great stand for a brake drum forge is a water heater stand. They are heavy duty and made to hold more than 600#'s. All you have to do is cut a hole for the ventilation system. You should be able to get them cheap from a plumbing repair service or a plumbing supply store. They also make nice work or tool tables.
- Nolan Chase - Sunday, 07/24/05 01:27:08 EDT
---
ThomasP I understand completly,
I shudder to think what the outcome of a wreck in my 1972 Chevy Camper Special C-20 would be. It has less than 90,000 miles, is actually a 1 ton derated to 3/4T by single rear wheels and runs great. Carries anything I can get in it or tow behind it. Looks ok for a 33 year old pick up painted with several coats of Rustoelums finest. I suspect that a truck of equal utility would cost me several thousand, and I bet it has a blue book of zip. I drive VERY defensely!
ptree - Sunday, 07/24/05 08:27:32 EDT
---
Fairbanks hammer adjustment: Mark, try asking "across the street" at forgemagic.com. I know a couple of the guys who hang there but not here have Fairbanks hammers and love them.

Great website, BTW! Looks like a good situation to be in.
Alan-L - Sunday, 07/24/05 11:21:12 EDT
---
I've been tempted by a couple oldies that were diesel dualies something about a truck that you could put RR rail bumpers on---with nicely scrolled ends and a paint job that just screams *FLEE* when they look up at it...

But I'd get more use out of something that I could park in just one space at work...that and I've twitted the yuppies with the massive vehicles they drive to and from the store while I pile steel, coal, etc in my small PU and truck for the hills in it...

Thomas
Thomas P - Sunday, 07/24/05 16:52:00 EDT
---
But Thomas the difference between your vehicles adn the over sized Yuppymobiles is that the closest most of those folks get to being off road is driving over a patch od sand that has drifted over the highway. Your vehicles on the other hand ( no matter the size ) get used as true work horses. ON and off road. SO do not let size bug you. Infact just think of how MUCH MORE you could haul with a really nice big truck......( evil grin)
Ralph - Sunday, 07/24/05 19:01:04 EDT
---
ThomasP,
If the dough from the insurance co. allows, go for the gusto. Think about running across a nice machine on a routine trip, and being able to "throw it in the back" and haul it home!
To really say "Flee, a blacksmith is driving thru" I like my dragon hood adornment. 24" wing spread, all forged and has a bikini clad, long haired Barbie riding the beast with reins in her hands! I like it so much I have another one I am thinking of using for a hood adornment on my 60's trailer mounted welder.
Seriously, I only drive my truck when full or going to get full. I comute in a 4 cylinder econo box. And i only have a 18 mile round trip.
ptree - Sunday, 07/24/05 20:43:04 EDT
---
Dragon Hood Ornament: We want photos!
Tim S. - Sunday, 07/24/05 21:35:20 EDT
---
Ptree; I think I'd rather be making more of those road trips to find things and then work the transportation issues than being able to transport anything I found but not being able to affort to make any trips...I'm hoping for a 6cyl and a towing package and then maybe borrowing a trailer from friends when needed.

Thomas
Thomas P - Monday, 07/25/05 15:05:42 EDT
---
PU Truck: Thomas what are you looking for?I still havent sold my little 94 Toyota PU. A very solid but basic little vehicle (at a very basic price)
adam - Monday, 07/25/05 16:42:27 EDT
---
Columbian Machinist's Vise: Today I worked on the Columbian Vise I got from Ken Scharabok. Some Kroil loosened the stuck screws. The vise is covered (about 50%) with black stuff. It is elastic/rubbery and doesn't come off with the wire brush very well. It smears and smells rubbery. After it cools after the wire brush, if brushed again it is more brittle and comes off easier.

The screw is a non-standard Acme. I thought I would have to either make a new screw to fit a standard nut or bore/thread a new nut in the lathe. Just for kicks I called WMH tool group that bought Columbian (and Wilton and others). They have replacement nuts! the price is $1.71! a replacement e-clip and washer is $5.46 each! Go figure. The clip or washer should be about $0.50 or less and the nut about $6 or $7.
The minimum shipping is $20! No logic at all. No wonder american industry went broke. I should have the nut in a week. Express shipping costs even more.

This vise will make a nice addition to my shop. Thanks, Ken.
John Odom - Monday, 07/25/05 17:29:21 EDT
---
John Odom,
Those part prices may reflect the vintage of those parts. Say they made 10,000 nuts and sold 1000 a year. The price to make them 10 years ago could be reflected in that odd price, while the standard E-clip and washer would be a commidity item and bought for resale in small lots and reflect a more current price.
ptree - Monday, 07/25/05 18:12:55 EDT
---
Thomas P:: I'd probably cry if someone ever winged my 1966 IH flatbed -- I bought it nearly 25 years ago for $300. 321,000+ miles, and the engine and tranny have never been touched, except for routine maintenance. I did get rear-ended in it back in 1989, but the truck suffered no noticable damage, except for a few paint chips left by the drunk who chose to destroy her Chrysler K car on my hind end.
Good luck in your search for a new rig.
AK
AK_ID - Tuesday, 07/26/05 16:06:21 EDT
---
AK ID,
I had a 68 IH scout, with the 396 V-8 cut at the factory to make a inline 4. 3 speed from a big truck, two wheel drive, and what IH called a POW-R-LOK rear axle. That would by a diferential less axle. Not limited slip, NO slip. Fun in the rain on a windy road. Bullet proof as there was no way to get it going fast enough to ever wear anything out! :)
ptree - Tuesday, 07/26/05 17:09:20 EDT
---
Scouts: I had a '66 with the half-a-V8, 4x4, and it was a terrific little workhorse. One time I towed a tractor/trailer from about the state line into Limon, CO with the little thing. Slow, but it got there. The only real problem with that Scout was the top speed was only about 75.

Pop had a '68 with the V8 engine, and it simply had too much power to do well off-road. Short-stroke engine forced it to wind up too much to develop power, I think. It did have enough power to twist off an axle when my brother ran it in low range with hubs unlocked, though.

The worst thing about the Scouts, just like my '61 1-1/2 ton flatbed, was that getting parts was always a real pain in the butt. They were put together out of left-overs from production runs of combines, windrowers, reapers, tractors, and whatever, so you had to take the old part with you every time. The rear end on my flatbed was from a deuce and a half, and new brake parts were really expensive. The power steering was from a grader, I think. Poor old schizophrenic thing ran forever, though.
vicopper - Tuesday, 07/26/05 20:01:41 EDT
---
I do love international harvesters. I had a '77 scout with the long bed and hatchback, but knew a couple of guys with the 60s vintages that were much tougher. By 77 International was still using whatever parts happened to fit at the time, by the way. If only they didn't rust...
Alan-L - Tuesday, 07/26/05 20:07:02 EDT
---
CO & STANDBY GENERATORS: Last evening at 5;45 our power went out due to a pole somebody hit - on Saturdy night. Things happen slowly here, it fell over at 5:45 today with no further provocation. The general concencus was that power would be out 'till close to noon, So I started the preperations to power Our house fron the AUX. power on the gas drive welder. This isn't the kind of thing You want to do on the first night of a new chemotherapy regimin, but food in the 'fridge, taking a bath & flushing the toilet get priority. With not a breath of breeze, the exhaust would not go away from the house, and started to show low levals of CO on the meter inside. I shut the generator down & went to bed. When the power came on at about 2:00 the CO level measured higher than when I went to bed, not dangerous, but not declining. Now after a couple of hours of ventilating with the air conditioner running it is down to "0" so I am going back to bed. THE POINT IS WHEN USING AN AUX. GENERATOR SOME MEASURE NEEDS TO BE TAKEN TO BE SURE YOU DON'T FILL THE HOUSE/SHOP WITH CO.
Dave Boyer - Wednesday, 07/27/05 04:23:46 EDT
---
Standby Generator: Had a friend who built a new house in Pine, Az., with a disconnected garage. Power outages were common and frequent. He bought a small gen set and rigged it up to hook into the house. Next outage he went to garage to get it, and lo and behold, the garage door opener didn,t work.You guessed it!! No walkin door !!!. Didn,t take him long to rectify that situation(after the power came back on)
- Loren T. - Wednesday, 07/27/05 05:11:37 EDT
---
Generators: Here in Paradise, most everybody has one, wants one, or is saving up to buy one. At this time of year,(hurricane season), folks start thinking they're worth a good bit of money, too.

The standard genset for most folks around here is a little 4-6 KW gas powered portable. They're noisy as all get out, they stink, and they have a limited lifespan, but they are worth their weight in gold after a storm. After Hurricane Hugo, sections of the island were without power for several months, and after Hurricane Marilym, areas were down for several weeks. A generator is a necessity, since most all of us have cistern water rather than utility-supplied. No juice, no pump, no water, no bath.

I have a little 5 KW unit that I can plug into the house when needed. I use a 30 foot 6ga extension cord so it sits far enough away from the house to have some breathing room and cut the racket a bit. A 50a receptacle is mounted next to the service entrance,and I can use that to either back-feed the house or run my welder. Since I moved into the shop, I have no need to run the welder at the house, but it makes a fine place to plug in the generator...after disconnecting from the utililty, of course. Doing it this way is NOT the recommended practice. You should have a proper transfer switch. But poor folks have poor ways, sometimes.

ONe important thing for anyone using a generator to power a house: you MUST ground the generator. Failing to do this can get you buzzed or ruin sensitive equipment. Mount a connecting lug on a ground rod next to the gen set and use some 8 ga copper wire to ground the generator frame to earth.

As Dave Boyer pointed out, a CO detector is a good thing to have. Those little air-cooled generator engines put out a huge amount of CO, NO2, CO2 and other stuff you shouldn't really breathe. Also, the engine itself doesn't really like to breathe its own exhaust. If there is no breeeze at all, consider placing a fan near the generator to keep it from sucking in its own exhaust.
vicopper - Wednesday, 07/27/05 08:49:03 EDT
---
Voyageur Mattawa Ontario Canada: We were a hit this yr. They are asking for more Smiths to attend next yr. So mark the third weekend in July (2006)to attend. The Town is looking into sponsers, but will know more next yr. We can sell, demo etc etc there. Camping is a must due to area. Our space to work in is 41' x 110' right by the Ottawa River.Lots of room for trailers, tents. We slepted in tents and had a camp fire at night to cook on. Lots of fun and made a few dollars also. The Towns people are very warm and were very interested in the Art of Blacksmithing. So please do consider the trip to the North it is well worth it. Will post lots more info closer to the date.
Cheers and Keep the Fire Lite

Barney from North Bay Ontario Canada
Barney - Wednesday, 07/27/05 12:30:54 EDT
---
IH Scouts: I recently returned from visiting my Aunt and Uncle in Anacortes WA, and Uncle has an old Scout pickup. He is an old retired Diesel tech from waaaay back, who thinks EVERYTHING should have diesel power, so he stuffed a GMC 4-71 into the the Scout (along with a duplex tranny) Quite the stump puller, she is. Speaking of Washington, I stopped over at Wayne (Coalforge) Lewis' place on Whidbey Island. Always a nice visit. For those who expressed concern, and were sending up knee mail for his wife, Karen, during her illness, you will be pleased to know that she is recovering nicely.
3dogs - Wednesday, 07/27/05 14:00:10 EDT
---
Hooking up power: I was once sent out to babysit an oil rig where when I got there they told me that our unit would "bite you" and you had to jump in the door to avoid that. Fairly obvious---a hot ground.

Since the site was about 6" deep in sloppy mud, I didn't like the idea of having a live unit up on the wheels and all that nice conductive muck below. So I borrowed a piece of wire and grounded the unit to the muck long enough to get inside and pull the plug---found out that some idjit had filed off the alignment projections on the plug and the same or another had plugged it in without checking that hot went to hot and not to not.

So I got out the schematics for the unit and the volt meter and figured out what was what and got it plugged in *right* and tested it and then got to work---I was a geologist; but my father was EE and we had always done our own wiring.

Later I read a book by an old oil patch fellow who mentioned the same problem on a rig once that killed most of the crew.

*NEVER* assume that the other fellow got it right when *your* life is on the line!
Thomas
Thomas P - Wednesday, 07/27/05 15:18:56 EDT
---
John Odom-vise: John, I do not know how, or if, you can post pix here, so I will post some pix "across the street". (www.forgemagic.com)
Please take a look and see if the vice is like, or similar to, the one you have.
Should be under "Wally Verbeck- vise"
I have not been able to find anything wrong with this vise. There is a little slack in the screw, but not much. Jaws will slide about 3/16th.'s of an inch in and out. May have a thrust washer that is worn a little.
What do you think ???
Wally
Wally Verbeck - Wednesday, 07/27/05 18:03:19 EDT
---
SANTA FE TRIP: ADAM; I may be in SANTA FE the first weekend of AUG. If I am, I would like to meet you and FRANK TURLEY. I would like to buy y'all a cup of coffee, or a beer or whatever you prefer.GRIN.

I don't know if I have your email addy or not. I have FRANKS.

THOMAS P. might get to come up to look at the little truck.GRIN. He will want to eat something if he sees my billfold come out.

Might get to see you.

Chuck Bennett
sandpile - Wednesday, 07/27/05 21:41:41 EDT
---
Ralph with another blood clot.: We found out today that Ralph has a tennis ball sized blood clot (with possible melanoma, too) in the front right lobe of his brain. He is having brain surgery tomorrow (Thursday) afternoon. Because of the blood clot in his chest that almost killed him a few weeks ago, he's been on blood thinners. They are going to do what they can to minimize the risk of bleeding. But there is still old clots in his chest, and now that he can't be on blood thinners for at least a month after this latest surgery...

It doesn't look good. Please pray for him. Dawn
Ntech - Wednesday, 07/27/05 23:53:53 EDT
---
RALPH: KNEE-MAIL are ready sent and more to follow.

Chuck
sandpile - Thursday, 07/28/05 00:01:33 EDT
---
Hang in there Ralph, Hang in there Dawn
Dave Boyer - Thursday, 07/28/05 00:47:59 EDT
---
More on generators: A friend mashed the connector on the PTO driven generator He uses when there is an outage. When replacing the connector He interchanged the wires and sent 230v to one of the 115v legs of the circut - blew out everything on that leg. As vicopper mentions, IF NOT USING A TRANSFER SWITCH BE SURE TO SHUT OFF THE MAIN BREAKER OR SERVICE DISCONECT. Otherwise the power will back feed, and lines that are presumed dead will be live. Another bad case would be an overload on Your generator as it tries to power the neighborhood.
Dave Boyer - Thursday, 07/28/05 01:06:47 EDT
---
Ralph: I dont really know ralph, but Im very sorry to hear that. I hope he comes through all right.
- Nolan Chase - Thursday, 07/28/05 01:10:25 EDT
---
Wally that is similar to but a lottle heavier than mine. The new nut came yesterday and mine is fine now. I still have to mount it.
- John Odom - Thursday, 07/28/05 06:17:17 EDT
---
Metalshop: Would taking Metalshop in High School help me if I were to take up blacksmithing?
Dylan Premo - Thursday, 07/28/05 13:02:21 EDT
---
Ralph and Dawn: Prayers and fervent best wishes your way. Ralph has been a solid contributor here and a big part of getting CSI up and running, in spite of dealing with a major cancer battle. We can't afford to lose him!
Ellen - Thursday, 07/28/05 13:08:22 EDT
---
DYLAN PREMO: If you're in a school system which still embraces the Industrial Arts, God bless 'em!! A blacksmith may be required to do just about anything that might be needed on a piece of metal. Hey, Dylan, it's FREE ! Jump on it like a possum on roadkill. When I went to high school, we could take foundry, (casting), pattern making, machine shop, welding and auto body. If you can straighten a fender, you can do armor. Get it! Get it ALL!!
3dogs - Thursday, 07/28/05 13:17:18 EDT
---
Ralph: What a lousy break! I fervently hope things turn around for him.
adam - Thursday, 07/28/05 13:22:34 EDT
---
Santa Fe Trip: Chuck, it would be very nice together. Make whatever arrangements you like with Frank and I will tag along. You should be able to get to my email by clicking on my name here
adam - Thursday, 07/28/05 13:24:14 EDT
---
ADAM: I'll be in ABQ on the last weekend in August. (Actually, Friday thru Tuesday) I'll be in touch with you and Frank as well.
3dogs - Thursday, 07/28/05 13:49:41 EDT
---
errata: hrmph... "it would be very nice to GET together" :)
adam - Thursday, 07/28/05 13:55:10 EDT
---
Paul: I am looking forward to it!
adam - Thursday, 07/28/05 13:55:56 EDT
---
Meeting: I'm open in August except for 19 through 21, big Indian Market downtown Santa Fe.
Frank Turley - Thursday, 07/28/05 14:19:35 EDT
---
3dogs: Hey, possums are road kill! How can a dead possum jump? :]
Bob H - Thursday, 07/28/05 14:23:17 EDT
---
Ralph: My sincere wishes for a miracle go out to Ralph and Dawn. If there is anything that I can do to help, please advise.
vicopper - Thursday, 07/28/05 15:47:35 EDT
---
Ralph: My sincere wishes for a miracle go out to Ralph and Dawn. If there is anything that I can do to help, please advise.
vicopper - Thursday, 07/28/05 15:47:40 EDT
---
SANTA FE: FRANK--ADAM--THOMAS P.-- emails are in your box.BOG..

I hope we can make it for the first week-end in Aug.

Chuck
sandpile - Thursday, 07/28/05 17:12:47 EDT
---
Ralph: Hang in there. Good energy coming your way.
- Larry - Thursday, 07/28/05 19:41:20 EDT
---
My prayers are in progress for Ralph and Dawn.
ptree - Thursday, 07/28/05 20:34:00 EDT
---
BobH and three dogs,
Do you know why the raccoon crossed the road?



To prove that it was possible to the possum!
ptree - Thursday, 07/28/05 20:35:25 EDT
---
Ralph: Prayers on the way. Faith that it works for the best.
- Tony - Thursday, 07/28/05 21:57:33 EDT
---
Ralph update:
I'm ecstatic to report that Ralph's surgery went better than anybody could imagine! (Thank you, God!) And the best news of all, while they still have to have some of the material biopsied, they feel certain from visual inspection that there is NO MELANOMA!! WOOHOO!! It was all blood, apparently. He bled into his brain some time ago and then again in the past few days.

I am truly SO GRATEFUL for all the prayers, good thoughts, and well wishes. I want to say THANK YOU again for all your support!! The next three or four weeks could be a bit dicey,but the most dangerous part is over, thanks to a marvelous God, amazing doctors, and terrific people like y'all! Dawn
Ntech - Friday, 07/29/05 02:19:56 EDT
---
Ralph: That is good news indeed!
vicopper - Friday, 07/29/05 08:21:00 EDT
---
Ralph,
OUTSTANDING NEWS!
ptree - Friday, 07/29/05 08:39:05 EDT
---
Whhhhhh....:

That's a sigh of relief from me on behalf of Ralph. Godspeed on his recovery.
Bruce Blackistone (Atli) - Friday, 07/29/05 09:04:34 EDT
---
SURGERY: WONDERFUL NEWS; We will keep on, keeping on with RALPHS knee mail. Glad to hear the better news.

Chuck
sandpile - Friday, 07/29/05 10:38:45 EDT
---
First Sat in Aug is the SWABA meeting out east of ALB this time; though I could probably head up afterwards---I need to find out about the State Fair demo we do---and the one at the Festival of the Cranes down my way in Nov.

Course if Sandpile is buying.....

Thomas
Thomas P - Friday, 07/29/05 12:32:08 EDT
---
Maiden Voyage: I just took my brake drum forge on its maiden voyage. I made a confederate pipe lighter. I was trying to make a scroll, but it turned into a handle, and the only thing I could think of with a handle like that was the pipe lighter. But it turned out great.
- Nolan - Friday, 07/29/05 22:22:17 EDT
---
Oops: meant to say colonial pipe lighter.
- Nolan - Friday, 07/29/05 22:46:15 EDT
---
Maiden Voyage: Congratulations! Sounds like you will have some good times with your new set up.
adam - Saturday, 07/30/05 10:42:02 EDT
---
Maiden Voyage: I've never actually lit a coal fire before. I was quite impressed by the heat. after a while, it was almost like looking at a black planet that was splitting up, and as if I could see the magma inside. Now all I need is a real anvil.
- Nolan - Saturday, 07/30/05 12:30:28 EDT
---
Paul Duval, blacksmith/sculptor, ill: I haven't met Paul, but in February, we were corresponding about Spanish terms which appear in the anvilfire International Glossary. Paul was e-mailing me from Mexico, a country that he frequents; he is fluent in Spanish.

In May, his wife Karen sent a mass e-mailing that Paul was seriously ill, and they were driving out of Mexico to Tulsa for hospital treatments. Later on, I believe they returned to his home, near Custer, SD. On July 30, he and Karen were on their way to Mayo Clinic.

I'm not sure what we can do as an anvilfire family, except offer our prayers.
Frank Turley - Sunday, 07/31/05 09:42:19 EDT
---
Dream Anvil: Alright, everyone please post what they're dream anvil would be if you could have any anvil ever. try to link to a pic if you can find one. I would want either a 275pound peddinghaus or a 500 pound Euroanvil.
www.peddinghausanvils.com
www.euroanvils.com
- Nolan - Sunday, 07/31/05 15:52:35 EDT
---
MR. DUVAL: FRANK; I will put PAUL on my list.

Sounds like it might be serious.

Chuck
sandpile - Sunday, 07/31/05 18:16:42 EDT
---