REVIEW
by Jock Dempsey
Like many books on my bookshelf I bought this one long before it was a "classic". It was one of two books and one pamphlet on knifemaking in my library. At the time this was most of what was in print. The interesting thing about many "first books" on a subject is that they are often the best. The author does not have to think about what others have already written, the subject is virgin territory. Because they are also not coming after other books they often do a very good job of covering the basics and many details that might otherwise be overlooked. This book is one of those and it is why it has become a classic.

If you want to learn how to make knives this is THE book. Not only does it cover all the basics but it also includes great information on tooling up as well as pages of descriptions of standard knife sizes, shapes and proportions. The methods covered in this book are the standard stock removal (grinding) method of making blades from plain carbon and alloy steels. It covers every detail of shaping, grinding, heat treating and assembling knives of every type. Fitting full tang slabs as well as regular tang grips are covered. No details are overlooked in this book.

David Boye assumes you are serious about wanting to undertake knifemaking and starts with the necessary tools and equipment. This is not a book for the primitive back yard hobbiest who wants to make everything from nothing. He does however offer some options to expensive grinders and finishing tools. And, today there are even more creative options for the low budget bladesmith such as the equipment in Wayne Goddard's $50 Knife Shop

David Boye strongly recommends (as I do) an oxy-acetylene welding and cutting outfit as a primary tool. This is not absolutely necessary but doing without can be very frustrating. Two tools that are not mentioned in this 1970's reference that are popular today include the abrasive chop saw and the plasma torch.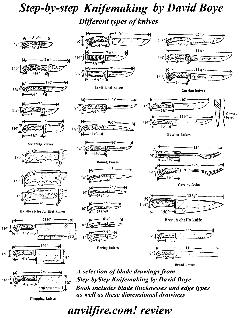 The illustrations include ink drawings and B&W photos. The drawings are simple and clear. The many photos clearly show knives and knifemaking operations. Each type of illustration is used to best advantage and there is no shortage of either.

The chapter on different knife types includes dozens of drawings as well as descriptions of each class of knife and how thick it should be as well as the type of edge. For this information alone the book is work buying. The compilation at left is just a few of the knife drawings.

Boye is one of the few authors to recommend that you need other references and points the reader to ASM (American Society of Metals International) for information about alloy steels. The references we suggest are the ASM Metals Reference Book, which has specs on all available metals and alloys. And, if you are going into knife making seriously, the ASM Heat Treater's Guide, Standard Practices and Procedures for Steel.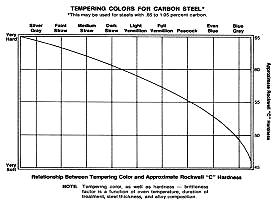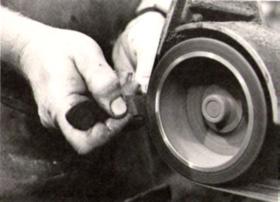 What this book is not. It does not include forging or Damascus work. The making of laminated steels was very new and not widely known when this book was written. However, when producing forged blades there is still a mountain of grinding and every other aspect of knife making covered by this book still applies. Where laminated steels or "Damascus" has become very popular for fancy knives today, this book covers engraving and etching in great detail instead.



Links:
---
Published by:
Boye Knives Press


Distributed in North America by:
ArtisanIdeas.com

Price $ 21.95 US (2002 Softcover, 278 pps)
ISBN 0615116590

---

BACK TO BOOKSHELF
Copyright © 2006 by Jock Dempsey, DEMPSEY'S FORGE
Webmaster email: anvilfire! webmaster