REVIEW
by Jock Dempsey
Since her reintroduction to the blacksmithing world in 1999 with the publication of the second edition of Decorative and Sculptural Ironwork, Dona Meilach has had a continuous series of new books on the work of artist blacksmiths. This is the sixth in the series which also included The Contemporary Blacksmith, Architectural Ironwork, Fireplace Accessories and the second edition of Direct Metal Sculpture. All are published by Schiffer Books and available from ArtisanIdeas.com

Ironwork Today Inside & Out is a survey of artistic metalwork used both indoors and out, as functional pieces and pure art. It is a survey of what is being done today with inspiration for what is possible in the future.

Dona opens Ironwork Today Inside & Out with a brief history of the renaissance in modern metalwork particularly in the United States with the popularization of crafts by first lady Jacqueline Kennedy and the founding of ABANA and other events of the 20th Century. However, while giving credit to many others she does not credit her own landmark publication of Decorative and Sculptural Ironwork. In that landmark work published in 1977 she showed the world of young new artist blacksmiths, including myself, that ironwork was not all black iron and scrolls but that it could include color, mixed metals and sculptural pieces as part of the overall. Probably the most important thing she provided by her careful selection of photos of the highest quality work of the day was that COLOR was the mark of great work. Even though ironwork is a sculptural medium the surface finish can make or break a piece. It is the difference between common ironwork and world class metalwork. This was a huge inspiration to the metalworkers of the time and those who followed who are now the top professionals of THIS century. I believe the contents of Ironwork Today Inside & Out was very much influenced by the inspiration provided by Decorative and Sculptural Ironwork some 30 years ago.

Ironwork Today Inside & Out continues this tradition of inspiration and education of both artist and client alike. Dona has repeatedly selected the very best new work based on her feeling for the medium. Her sense of what is good in metalwork is based on her broad exposure of the finest work in the course of writing her books on this and other arts and crafts. Much of this work is technically cutting edge while at the same time it is not the junk art of the 1960's and 1970's that left people shaking their heads wondering, "Is this art?" Dona knows art and what makes art timeless. It is the finest of art and comparable to any over the past millennia.

Studying the books of Dona Meilach along with those of the Italian Giuseppe Ciscato (see I Maestri Italiani Del Ferro Battuto) should be a year long course at every architecture school as well as schools of metal arts.

As always the difficulty is selecting images to represent this book. I am afraid it is impossible and my preferences shall prevail. Here are a few samples. To properly represent this work would require much more. Please click the images for enlargements.


Work of Katherine Kagler, exterior decorative panel, forged steel.

I often rant against rust finishes but the they do work in very arid climates. In this case the light rust is part of an organic whole.

The flowers and leaves in this piece are forged from heavy plate which allows for texturing as well as providing a balance to the iron bars used for stems. Work of this nature often uses thin sheet metal repousse' work that is too light in proportion to the iron and lacks durability.

This work also represents what can be done with modern power tools. The texturing of the leaves, the long tapers that make the scrolls so graceful, the change in mass of the flower stems is the result of skilled use of a power hammer with special dies. For information on this style of working see The Hofi system

For more of Katherine's work see www.Balconesforge.org Kagler Gallery

John Boyd Smith (right and below) has been a long time Savannah, GA blacksmith. His claim to fame is his organic frameless gates which grow out their supports and his wonderful water birds of all types.

The project shown was for the reconstruction of a Southbeach Miami, Florida hotel and includes nearly 1,000 banana leaves. This was one of those huge once in lifetime projects that makes or breaks a smith.

John says that his secret to success has been to never miss a deadline.
---
Bronze table base by Robert Gardner and Eric Velleca. Marble top by Tacconi, Florence Italy.
Detail of forged bronze.
Photos, Ken Nelson
Furniture has become a great outlet for the artist blacksmith. Many now specialize in it. Furniture ranges from beds, tables and chairs to floor lamps and matching accessories.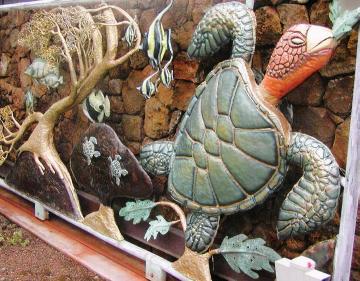 Turtle Gate artist unknown, photographed by Ken Dubs in Kona Hawaii. Approximately 5 by 20 feet. Please contact us if you know the artist.

This wonderful piece is both realistic and whimsical. Careful placement of the fish allow them to appear to be swimming freely.

This work is welded sheet metal repousse' used to great advantage. The work looks massive while in fact it is light weight and strong which is required in a sliding gate.

Exceptional use of color.

---
Windows Folder Knife by Steve Schwarzer. Original photos by Point Seven Studios.
Closeup detail of Mosaic Damascus.


Besides artist blacksmiths the world of bladesmithing was given a boost by Decorative and Sculptural Ironwork. There Dona featured the work of Daryl Meier who had shown that lettering in steel, something that was once considered myth was actually possible. Since then others have expanded on his work and "mosaic Damascus" was developed into a well understood technique. Although it is now well understood it is still high art and not always predictable. The work above shows the fantastic details and colors that can be created in the metal. These processes actually produce bars of metal which the pattern passes completely through. In the example above pure nickle is used in contrast with carbon steel which has been blued to increase the color.
Links
---
Published by:
Schiffer Publishing Ltd.
Atglen, PA

Distributed in North America by:
ArtisanIdeas.com

Price $49.95 US
ISBN 0764323903

---

BACK TO BOOKSHELF
Copyright © 2006 by Jock Dempsey, DEMPSEY'S FORGE
Webmaster email: anvilfire! webmaster