Tannehill Ironworks Alabama
State Historical Park
McCalla, Alabama
Tannehill State Park is Home to the Alabama Iron and Steel Museum. Located at McCalla Alabama, eleven miles west of Bessemer, Al. Exit 100 off I-20 follow signs approximately two miles.
The Tannehill Furnaces, are among the best preserved Civil War Period ironworks. A working blacksmith shop is open on weekends, with demonstrations March-November. Iron pour demonstrations March-October.
Dr. Jim Batson Twelfth Annual
Batson's Blade smith Symposium
Tannehill State Park was the perfect setting for the Blade Symposium. Not only were their demonstrations where people were willing to share in their knowledge of this art, but there were quite a lot of materials on display and opportunities to do hands on work. Even though the weather was cold, there was warmth wherever the forging was taking place.
Announcement and Demonstrators list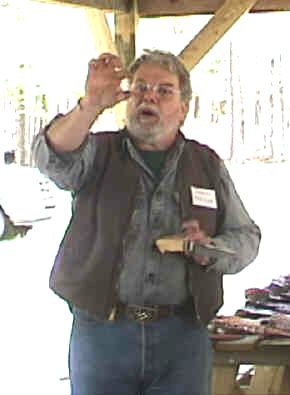 Points on form fitting, tang lengths, handles and guards were given by Joseph Keeslar a Master Blade smith from Almo, Kentucky. The Bowie knives he makes are unreal, special attention to every detail.