Tell them you found it on anvilfire.com!




Blacksmithing and metalworking questions answered.


Blacksmithing and Metalworking Tools Historical Preservation.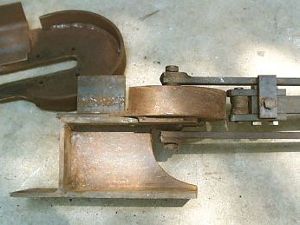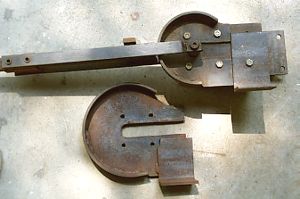 U-bolt bender top and side views.
The bending handle pivots on two hard steel shoulder bolts. It slips inside a piece of square tubing and is held in place by two set crews.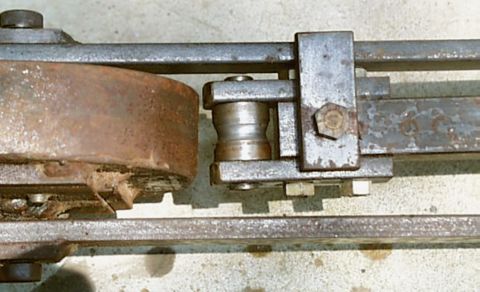 The roller nose is made of mild steel. It had a low "V" groove but bending pressure made it fit the round bar being bent perfectly. Benders can also have a plain "nose" but they need to be hardened and polished tool steel.

The vertical tab bolted on behind the roller reacts against the bending arms to reduce flex.

This special bender was built for a production job that was quoted in the thousands of parts but only a dozen were ordered. The cost of the bender which took about 12 hours to build was built into the quote. This was done by pricing the parts on a curve where ONE equaled the cost of the bender plus the minimum stock order and single job costs (setup, purchase materials, delivery). Ten were priced at the bender cost plus actual estimated labor, then the same for 100 and 1000, each with single job costs. If I had bid on the perceived cost of one part I would have lost my shirt on the job. The result was I made money and had a nice bender left over. Anyone need some 1/2" dia. x 6 or 8 inch U-bolts?