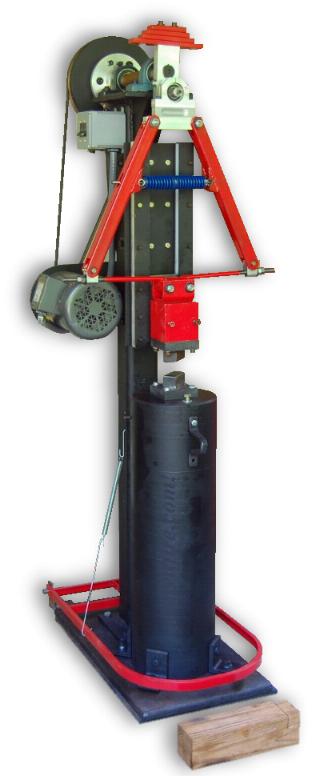 This hammer is based on the original DIY hammer built by Ray Clontz, before he came up with the Tire Hammer. It uses a clutch mechanism built from two disk brake rotors with friction material in between. Ray used a clutch disk, Fred used a sheet of friction material.

Fred builds Rose Engines or Holtzapffel type lathes. These have a complex gearing system that moves the cutting tool to produce geometric patterns on the work being turned. He applied his machining expertise to building this beautiful little hammer.

Practically all DIY and Junk Yard hammers have significant faults. Our anvilfire X1 should have had the ram turned 90° to suit the frame design and the guides should have been longer.

The most significant fault on this hammer is the length of the link arms and toggles. The long length results in a long "sloppy" action that hits very hard but will be difficult to control.

As of this writing Fred is running the hammer fairly slow, 2.6 hits per second or 156 RPM top speed and slower while slipping the clutch. That is about half the speed we are running our 110 pound anvilfire X1. Normally a light hammer like this would run 350 to 400 blows per minute. However, this hammer with its light spring and long toggles would flail itself to death at those speeds. Slower is better when building a DIY machine.

This hammer has a 660 pound anvil giving it a very high efficiency 18 : 1 Anvil to ram ratio.