Tell them you found it on anvilfire.com!




Blacksmithing and metalworking questions answered.


Selection of Roper Whitney - Pexto Hand Forming Tools
The 900 series tools above as well as other standard stakes are still available as there is still a lot of industrial sheet metal work being done.
Stake Names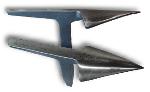 Return to Stakes and Stake Anvils page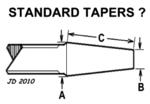 Stake Shank Taper Poll
Help us collect data on stake shank tapers.