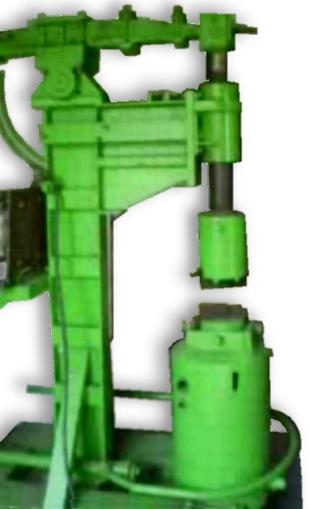 NOTE: These images were captured from low resolution on-line video.

Polski mŁot moc mechaniczny Szymka Żarnowskiego
(Polish power hammer by Szymon Zarnowski).

Feather Hammer is the term used in Europe for a Spring Helve Hammer.

Practically all DIY and Junk Yard hammers have significant faults. Our anvilfire X1 should have had the ram turned 90° to suit the frame design and the guides should have been longer.

The most significant fault on this hammer is the way the treadle is hinged from one side so that the hammer can only be operated from the right side and front but not the left side. The treadle also has very long travel. The operator should be able to approach the machine from a bit more than 180° and operate the hammer with a few inches of toe motion.

The reason for this mounting of the clutch is the belt shifting mechanism. However, it would be possible to locate the motor and clutch back shaft at 90°. This would require a two axis or ball joint at the link to spring connection.